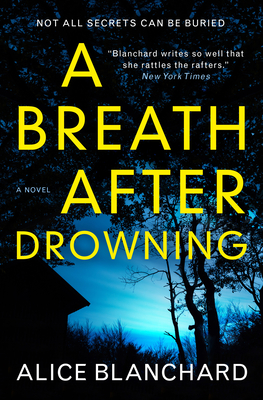 A Breath After Drowning (Paperback)
Titan Books, 9781785656408, 448pp.
Publication Date: April 10, 2018
Other Editions of This Title:
Mass Market (2/26/2019)
Compact Disc (4/10/2018)
* Individual store prices may vary.
Description
The stunning new psychological thriller from the award-winning author of Darkness Peering and The Breathtaker.

She'll need all her wits about her, and then some, to eventually do battle with one of the most memorable genre villains since Hannibal Lecter. - Wall Street Journal

Sixteen years ago, Kate Wolfe's young sister Savannah was brutally murdered. Forced to live with the guilt of how her own selfishness put Savannah in harm's way, Kate was at least comforted by the knowledge that the man responsible was on death row. But when she meets a retired detective who is certain that Kate's sister was only one of many victims of a serial killer, Kate must face the possibility that Savannah's murderer walks free.

Unearthing disturbing family secrets in her search for the truth, Kate becomes sure that she has discovered the depraved mind responsible for so much death. But as she hunts for a killer, a killer is hunting her...
About the Author
Alice Blanchard won the Katherine Anne Porter Prize for Fiction for her book of stories, The Stuntman's Daughter. Her first novel, Darkness Peering was named one of the New York Times Book Review's Notable Books. Her second novel, The Breathtaker was an official selection of the NBC Today Book Club. Alice has received a PEN Syndicated Fiction Award, a New Letters Literary Award and a Centrum Artists in Residence Fellowship.
Praise For A Breath After Drowning…
"Terrifying... one of the most memorable genre villains since Hannibal Lecter." - Wall Street Journal

"Blanchard excels at portraying a multilayered main character who's damaged but strong, and at sending readers chasing after red herrings. The closing twist, a complete surprise, caps a tale that is as absorbing as it is emotional and thought provoking. This is one for readers of Patricia Cornwell's Dr. Kay Scarpetta novels...each starring a woman in the field of medicine who cares deeply about her job and about getting justice for those who've been wronged." - Booklist

"Riveting thriller" - Publishers Weekly

"A BREATH AFTER DROWNING had me hooked from page one. A spectacular, gripping, psychological thriller not to be missed." --Lisa Lutz, New York Times bestselling author of The Passenger

"Dark, chilling and complex. Blanchard is a skilled writer who spins a tangled-web thriller that will keep you up at night." -- Sherri Smith, bestselling author of Follow Me Down

"In her newest, A BREATH AFTER DROWNING, Alice Blanchard has you by the throat before you know it. This story of a child psychiatrist stalked by violence past and present kept me up all night, long after I stopped reading. Blanchard is a powerhouse, and keeps getting better." --Jacquelyn Mitchard, bestselling author of The Deep End of the Ocean

"A smart read with a complex heroine and an ending you can't foresee with a crystal ball." Nancy Allen, bestselling author of the Ozarks Mystery Series

"Readers who enjoy Ruth Ware and Megan Miranda will enjoy this book." - San Francisco Book Review

"goes from strength to strength and is well worth a read if you are a fan of well-constructed, beautifully paced psychological thrillers" - The Crime Review

"A very satisfying thriller from a writer who knows how to work the reader's emotions" - The Frumious Consortium

 "a slow burn read that will hold your attention until the end" Bookreferees.org

"I felt enough empathy for Kate that it was as though a personal friend were going through what she was going through, and I just couldn't put the book down" Books The Thing

"A Breath After Drowning is a great compelling, sinister and shocking story" With Love for Books

 "I kept thinking I had things all figured out ahead of time only to be proven wrong over and over again, I just love when a book keeps the surprises coming!" Novel Gossip

"Controlled, Fresh, and Intriguing." Novel Gossip

"a fast-paced enjoyable read with a thought-provoking plot, and I'm glad I read it. Give it a try!"  Kittling Books

"a fine choice for your psychological thrillers list" Chick Lit Central

"This mystery is cleverly put together, everything fits, and I found this to be an addictive read"  Krimsuun Pages 

"a page turner with more-than-ordinary reversals and undercuts awaiting the unwary reader. Unfortunately, Dear Reader, I cannot tell you about many of these because my doing so might spoil your fun"  Reviewing The Evidence

"one of those deceptive books, where I thought I knew what it would be about, and then got wonderfully surprised at the complex characterisation and a plot that spans time and characters I did not expect"  Editing Everything

"a well written, addictive serial killer thriller featuring a strong, likeable female protagonist and a satisfying conclusion" Isabella's Reading Corner


"a finely wrought psychological thriller... the ultimate resolution of her tale proves believably grim" Blog Critics

"As close to perfect as it can get in this genre.... Definitely an author to follow, Blanchard chisels characters that darken with each layer. Reminiscent of Gillian Flynn, Paula Hawkins, with the rawness of Stephen King's suspense novels, this one's highly recommended for anyone craving a thriller that will leave a scar." - Cemetery Dance

"Blanchard's rapid-fire prose makes for easy reading, but her ambition is to strike deeper with her words than your average page-turner. " - Connecticut Magazine

"refreshingly easy to slip into and I couldn't put it down" - The Scary Reviews