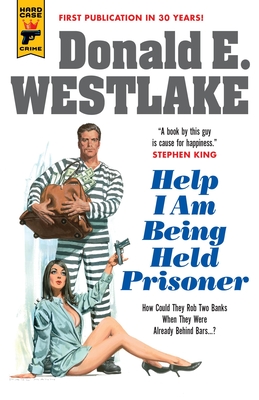 Help I Am Being Held Prisoner
Paperback

* Individual store prices may vary.
Description
JAILED FOR A JOKE

It isn't easy going to jail for a practical joke. Of course, this particular joke left 20 cars wrecked on the highway and two politicians' careers in tatters - so jail is where Harold Künt landed. Now he's just trying to keep a low profile in the Big House. He wants no part of his fellow inmates' plan to use an escape tunnel to rob two banks. But it's too late; he's in it up to his neck. And that neck may just wind up in a noose...

HELP I AM BEING HELD PRISONER is Donald E. Westlake at his funniest and his most ingenious, a rediscovered crime classic from the MWA Grand Master returning to stores for the first time in three decades.
Praise For Help I Am Being Held Prisoner…
"The novel offers so many gifts to the reader—wonderful characters; a wide-eyed, goofy sense of humor; some delightfully hysterical wordplay—that the publisher has done readers an enormous favor by bringing it back into print." -- Booklist starred review

"A bright reprint from 1974 that shows [Westlake] working the field in which he remains unrivaled: the comic caper in which Murphy's law reigns supreme...Fans of Westlake's Dortmunder series, which got started around the same time with The Hot Rock (1970), will appreciate the author's consummate blending of comedy and suspense, often within the same sentence, and rejoice that more Westlakes are slated for resurrection." --Kirkus Review

"Fans both old and new will be tickled." Publishers Weekly

"Donald E. Westlake at his funniest and his most ingenious...not to be missed" -- The Violent World of Parker

"Pick up this well-written, exquisitely plotted and, yes, really funny caper novel and see what all of the excitement was and is about." - BookReporter

"a fast, funny romp of a story, virtually "unputdownable." - Anthony Cardno blog review

"Like all of the best Westlake books, this one careens along like a cyclist on meth."  -- GrouchyGrammarian.com

"thoroughly entertaining little gem" - Bookgasm

Hard Case Crime, 9781785656828, 256pp.
Publication Date: February 13, 2018
About the Author
Donald E. Westlake is widely regarded as one of the great crime writers of the 20th Century. He won three Edgar Awards and was named a Grandmaster by the Mystery Writers of America. Many of his books have been made into movies; Westlake also wrote the screenplay for "The Grifters," for which he received an Academy Award nomination.