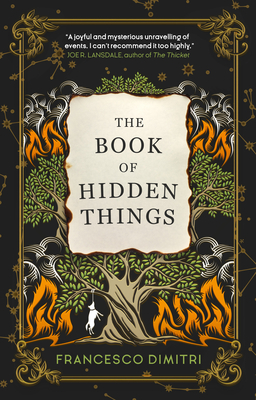 The Book of Hidden Things
Paperback

* Individual store prices may vary.
Other Editions of This Title:
Digital Audiobook (2/12/2020)
Description
From "one of the most significant figures of the last generation of fantasy", comes Francesco Dimitri's debut novel in English, an enthralling and seductive fantasy following four old friends and the secrets they keep.

Four old school friends have a pact: to meet up every year in the small town in Puglia they grew up in. Art, the charismatic leader of the group and creator of the pact, insists that the agreement must remain unshakable and enduring. But this year, he never shows up.

A visit to his house increases the friends' worry; Art is farming marijuana. In Southern Italy doing that kind of thing can be very dangerous. They can't go to the Carabinieri so must make enquiries of their own. This is how they come across the rumours about Art; bizarre and unbelievable rumours that he miraculously cured the local mafia boss's daughter of terminal leukaemia. And among the chaos of his house, they find a document written by Art, The Book of Hidden Things, that promises to reveal dark secrets and wonders beyond anything previously known.

Francesco Dimitri's first novel written in English, following his career as one of the most significant fantasy writers in Italy, will entrance fans of Elena Ferrante, Neil Gaiman and Donna Tartt. Set in the beguiling and seductive landscape of Southern Italy, this story is about friendship and landscape, love and betrayal; above all it is about the nature of mystery itself.
Praise For The Book of Hidden Things…
"The Italian Neil Gaiman" - Chicago Review of Books

In lesser hands, this blend of detective story, organized crime thriller, and supernatural investigation would feel like a grab bag of plot devices, but Dimitri has created a thrilling spectacle that also manages to point poignantly at the way the landscapes we grow up in shape us in ways even beyond our understanding. A deeply felt look at the idea of home, clothed as a popcornworthy page-turner." - Kirkus Reviews (starred review)

"A rich, emotional tale that is less about hidden supernatural things and more about the things we hide from our friends and from ourselves. Perfect for book discussion groups to devour and debate" - Booklist (starred review)

"An evocative meditation on friendship, adulthood, and the liminal spaces that lie just outside human perception...Dimitri's beautifully written tale, steeped in nostalgia, folklore, and religion, will enthrall and terrify readers." - Publishers Weekly

"A mystifying exploration of unbelief and faith, Francesco Dimitri's The Book of Hidden Things dazzles with portraits of men at a crossroads... Skillfully touches on the deepest vulnerabilities in characters who evolve into sharper versions of themselves...Challenges the limits of rationality. Here, mysteries aren't riddles to solve, but answers that lie within reach." -- Foreword Reviews


Dimitri weaves a tale of adventure, mystery, friendship and heart-wrenching beauty that will make you re-examine what is holy, what is true and what is beyond the realm of possibility. 
-BookPage

"[The Book of Hidden Things] has elements of fantasy, and has been described as such, but it also veers into moments of real horror. In many ways, this book reads like a mystery or a crime thriller. It's also a book about adulthood, or, rather, about the disappointments of adulthood or what I like to call "life's ultimate despair." But really, this is a book about friendship ...The story is captivating and I found myself rushing towards the book's conclusion... What's especially thrilling is this sense of dread pervading in the everyday, something hidden behind the natural." 
 -Chicago Review of Books

"Beautifully written, Dimitri has produced an enlightening and thrilling story that succeeds at every turn. His insightful observations of how our early memories and interpersonal relationships help shape our adult lives is remarkably poignant. The Book of Hidden Things is an absorbing story that defines how we look at home. It's a story filled with twists and turns that will most certainly entertain, terrify, and captivate readers." - New York Journal of Books

"Highly intriguing and entertaining...THE BOOK OF HIDDEN THINGS is a unique reading experience that will appeal to mystery fans as well as fantasy devotees. With luck, it will be the first of many works from Dimitri as he ventures beyond his native language."
-Bookgasm

"Francesco Dimitri's The Book of Hidden Things is a combination of Natasha Pulley and Marisha Pessl. It is a story about the strength of friendship and faith in the unseen." - San Francisco Review of Books -4/5 star review

"The Book of Hidden Things shows us that memories are stories that refuse to belong only to the past. Such stories can create places that are both wonderful and dangerous; whether we believe in them or not is up to us." Aliya Whiteley, author of The Beauty

"What a glorious read! This sun-drenched fantasy is a feast for the senses, reflecting on the value of friendship and what it means to finally grow up. If you loved the Neil Gaiman's Ocean at the End of the Lane, this book is for you." Helen Marshall, author of Gifts for the One Who Comes After

"The Book of Hidden Things is both a mystery and a map. Follow the clues along the trail in Francesco Dimtri's dazzing debut and you'll be ushered into a hidden world of magic, not only within these pages, but also within your own life. Be prepared to be transformed." Mark Chadbourn, author of Age of Misrule


"As soon as I read the first lines of The Book of Hidden Things, I felt at home. It is an immersive book, that draws you in and never lets you go. Gripping, ruthless in the way it describes the age of reason, dominated by a mysterious, magical Salento landscape very far from the chocolate box images we are used to. In a word, unmissable." Licia Troisi, author of Nihal From The Land Of Wind

"Francesco Dimitri's first novel in English is a wonder and a revelation. Hidden within this gripping, frightening story about an arcane manuscript is a deep, clear-eyed, and compassionate meditation on friendship as it evolves over time. The Book of Hidden Things is fantasy at it's best: using magical tropes to illuminate real life." Terri Windling, author of The Wood Wife

"What a joy to have this in English. Francesco Dimitri's fantastic fantasy novel has everything I like. A sensation of damp shadows moving just out of sight, and a slow, joyful, and mysterious unravelling of events. I can't recommend it too highly." Joe R. Lansdale, author of The Thicket

"Some kinda terrific book!"  - SciFi Magazine 

"wickedly nostalgic and mysterious. It makes you want to be a teenager again" -- SciFi Movie Page 

"stellar" Den of Geek

"His depiction of an Italy that is at once modern, fantastic and deeply rooted in history is a joy to experience." The Frumious Consortium


"it takes a talented author to be able to weave stories together like this and it was flawless" The Misadventures of a Reader 

"The Book of Hidden Things drew me in completely and irrevocably with its enigmatic appeal" bibliosanctum.com

"Wonderful characterisation and evocative writing..." Editing Everything

"pulls you in and consumes you" Looking Glass Reads

"A deeply felt look at the idea of home, clothed as a popcornworthy page-turner." Kirkus Reviews' Best Fiction of 2018

"so lavishly described, you'll feel as though you're in Italy yourself" - Girl Who Reads reviewer's pick of Best of 2018
Titan Books, 9781785657078, 400pp.
Publication Date: July 3, 2018
About the Author
Francesco Dimitri is an Italian author and speaker living in London. He is on the Faculty of the School of Life. He is considered one of the foremost fantasy writers in Italy, and his works have been widely appreciated by non-genre readers too. A film has been made from his first novel, La Ragazza dei miei Sogni (The Girl of My Dreams). The Book of Hidden Things is his debut novel in English.