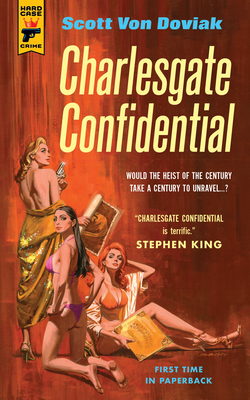 Charlesgate Confidential
Paperback

* Individual store prices may vary.
Other Editions of This Title:
Hardcover (9/18/2018)
Description
"CHARLESGATE CONFIDENTIAL is terrific." – Stephen King

A sharp and funny tale of a daring art heist gone wrong—inspired by the same real-life, still-unsolved crime depicted in the Netflix hit series "This Is A Robbery."


A group of criminals in 1946 pull off the heist of the century, stealing a dozen priceless works of art from a Boston museum. But while the thieves get caught, the art is never found. Forty years later, the last surviving thief gets out of jail and goes hunting for the loot, involving some innocent college students in his dangerous plan - and thirty years after that, in the present day, the former college kids, now all grown up, are drawn back into danger as the still-missing art tempts a deadly new generation of treasure hunters. A breathtakingly clever, twist-filled narrative that moves from 1946 to 1988 to 2014 and back again, CHARLESGATE CONFIDENTIAL establishes Scott Von Doviak as a storyteller of the first order, and will leave you guessing until the very last page.
Praise For Charlesgate Confidential…
"Impressive…inventive…immensely enjoyable." - Tom Nolan, Wall Street Journal & chosen by Wall Street Journal for "Best of 2018"  

"CHARLESGATE CONFIDENTIAL IS TERRIFIC!"- Stephen King

"Charlesgate Confidential is the sort of canny, witty crime novel that doesn't come along often enough. Scott Von Doviak is terrific at Boston voices and a fearless plotter. The crew at Hard Case Crime has found another gem! May they never reform."  – Owen King, author of Double Feature and co-author of Sleeping Beauties

"An all around superior thriller." - Booklist Starred Review 

"a wildly inventive fantasia spiced with frequent revelations of new crimes and new solutions."   - Kirkus Reviews

"Highly entertaining…era-bending caper novel." - Publishers Weekly

"Von Doviak captures perfectly the dialogue, mood and mores of each of the eras that comprise his tale." -BookReporter

"Charlesgate Confidential  is a riveting tale, a hard-boiled art heist worthy of Dashiell Hammett in his prime." – Ernie Cline, author of Ready Player One

"Scott Von Doviak's Charlesgate Confidential is a corker! With its intriguing plot that spreads across three distinct time periods, quirky characters quick with the witty repartee, and an amazing sense of place and time, it had me reading way past my designated bedtime. Boston, and its love for the home team—GO RED SOX—really comes alive in the various years depicted. Couldn't imagine Charlesgate Confidential not making many Crime/Mystery Best Of Lists next year."  – Thomas E. Sniegoski, New York Times Bestselling author

"It's impressive that Von Doviak captures the tenor of the times from the criminal milieu of 1946, to the drug and alcohol fueled students living in the Charlesgate dorm in 1986, to the swanky Charlesgate condo residents in 2014. If you're looking for an entertaining caper novel, I highly recommend Charlesgate Confidential." - George Kelley

"A beautifully plotted, satisfyingly simple heist and murder novel. Highly recommended for noir fans!" - The Crime Review
Hard Case Crime, 9781785657191, 384pp.
Publication Date: September 17, 2019
About the Author
Scott Von Doviak is the film critic for the Fort Worth Star-Telegram and has written about movies for the Houston Chronicle and the A.V. Club. He is also the author of three non-fiction books, including Hick Flicks: The Rise and Fall of Redneck Cinema, If You Like the Terminator..., and Stephen Kins Films FAQ. He lives in Texas.