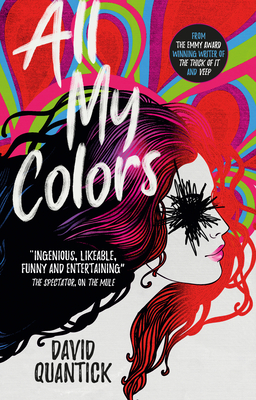 All My Colors (Paperback)
Titan Books, 9781785658570, 288pp.
Publication Date: April 16, 2019
Other Editions of This Title:
Compact Disc (4/16/2019)
Compact Disc (4/16/2019)
MP3 CD (4/16/2019)
* Individual store prices may vary.
Description
From Emmy-award winning author David Quantick, All My Colors is a darkly comic novel about a man who remembers a book that may not exist, with dire consequences. A bizarre, mind-bending story at the intersection of Richard Bachman, Charlie Kaufman and Franz Kafka.

It is March 1979 in DeKalb Illinois. Todd Milstead is a wannabe writer, a serial adulterer, and a jerk, only tolerated by his friends because he throws the best parties with the best booze. During one particular party, Todd is showing off his perfect recall, quoting poetry and literature word for word plucked from his eidetic memory. When he begins quoting from a book no one else seems to know, a novel called All My Colors, Todd is incredulous. He can quote it from cover to cover and yet it doesn't seem to exist.

With a looming divorce and mounting financial worries, Todd finally tries to write a novel, with the vague idea of making money from his talent. The only problem is he can't write. But the book - All My Colors - is there in his head. Todd makes a decision: he will "write" this book that nobody but him can remember. After all, if nobody's heard of it, how can he get into trouble?

As the dire consequences of his actions come home to both Todd and his long-suffering friends, it becomes clear that there is a high - and painful - price to pay for his crime.
About the Author
David Quantick is a television writer and radio broadcaster with his own critically rated shows One, 52 First Impressions and The Blaggers Guide. He has written TV comedies including Veep (for which he won an Emmy), The Thick of It, The Day Today and more. He is the author of novels Sparks, The Mule, and is the author of two writing manuals, How To Write Everything and How To Be A Writer.
Praise For All My Colors…
"David Quantick is one of the best kept secrets in the world of writing.  He's smart, funny and unique. You should let yourself in on the secret." - Neil Gaiman

"wonderfully bizarre" .... "...as a twisty and fitfully funny episode of The Twilight Zone, it's a blast. A caustic, unexpected comic horror story in which the villain, as always, thinks he's the hero." - Kirkus Reviews

"All My Colors is by turns a supernatural revenge fantasy, a black comedy, and a self-abnegating parody. It is hysterical, shocking, and propulsive—leave the lights on for its end."
-Foreword Magazine

"Quantick ably sketches an unappealing but interesting protagonist swiftly out of his depth, and the slowly unfolding literary menace will appeal to fans of Jonathan Carroll's The Land of Laughs (1980) or of literary-themed horror in general."  -Booklist 

"With his witty, cautionary horror story, David Quantick entertains readers from start to finish: he turns his sharp eye on the dynamics of publishing industry in a novel that explores the nature of story-telling itself. Fast-paced and easy to read, this novel is a must-read for fans of Chuck Palahniuk, Drew Magary and John Niven." - Mystery Tribune

"Part mystery, part fantasy, All My Colors' rainbow of sensations won't leave readers unfazed." - BookPage

"Quantick spins the tired trope of a book about someone writing a book into a darkly humorous story about ego and comeuppance, one that, for a moment, lets the reader believe in a just world where jerks get their due punishment" - Barnes & Noble SFF Blog

"Too many novels about fictional stories do a terrible job of convincing the reader that the subject matter is actually worthwhile: this is one of those rare books that creates a wholly convincing novel on which to hang its plot" - The Frumious Consortium