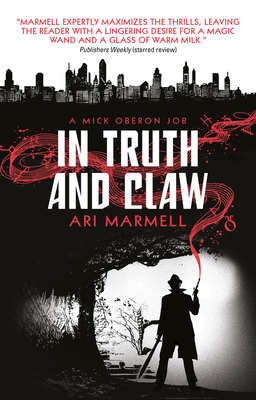 In Truth and Claw (A Mick Oberon Job #4) (A Mick Oberon Job Book #4) (Paperback)
Titan Books, 9781785658891, 336pp.
Publication Date: August 7, 2018
* Individual store prices may vary.
Description
Highly anticipated fourth book in the Mick Oberon urban fantasy series from the critically acclaimed Ari Marmell

Mick Oberon may look like just another 1930s private detective, but beneath the fedora and the overcoat, he's got pointy ears and he's packing a wand. A series of brutal murders is sweeping Chicago, baffling both the local police and the Seelie Court, who sense that an aura of corruption and death has touched Mick himself. When Mick's associates become targets, and a vampire appears in his office, Mick is drawn into his most dangerous hunt yet. A hunt that will lead him to seek answers about his mysterious past and what it could mean for those in his present.
About the Author
Ari Marmell is a fantasy writer with novels and short stories published through Spectra (Random House), Pyr, Wizards of the Coast, and others. He is the author of role-playing game materials for Dungeons & Dragons and the World of Darkness line, as well as the tie-in novel to the hit video game Darksiders. He lives in Austin, Texas with his wife, George.