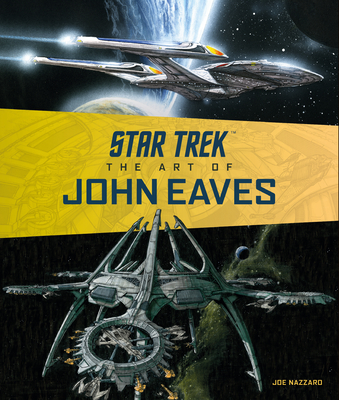 Star Trek
The Art of John Eaves
Hardcover

* Individual store prices may vary.
Description
Over the past few decades, John Eaves has had a major impact on the look of the Star Trek Universe and played a pivotal role in shaping Gene Roddenberry's vision. Starting with his work on Star Trek V: The Final Frontier, Eaves has worked as a production designer, illustrator, and model maker across the franchise. He has been responsible for creating many of the props and ships, and helped develop the Federation design, from the U.S.S. Enterprise NCC-1701-E to the U.S.S. Discovery NCC-1031.

Star Trek: The Art of John Eaves represents the most extensive collection of designs and illustrations created by Eaves across the Star Trek Universe. Featuring fascinating pencil sketches and stunning concept art, this visually dynamic book gives fans a unique in-depth look into Eaves' creative vision and the wealth of his remarkable work at the center of this spectacular franchise.
Praise For Star Trek: The Art of John Eaves…
"The only single creative mind to have a bigger impact on Star Trek than John Eaves is Gene Roddenberry himself...all the Next Gen stuff you love, like the Borg ship, came from him. This book is all about that dude and how his work shaped Trek throughout the years." -- Eric Vespe (https://www.holidaygiftguide.net/2018books/)

 "Trekkers will love the behind-the-scenes descriptions provided with the artwork" Kirkus Reviews Gift Guide

"A strong collection that highlights more spaceships than you can handle. John Eaves has a lot to do with why Star Trek and all its ships look the way they do. Bravo sir." - Aventures in Poor Taste

"The only single creative mind to have a bigger impact on Star Trek than John Eaves is Gene Roddenberry himself" - Vespe's Holiday Gift Guide

"It's a joy to see how Eaves's concepts have evolved" - The Film Stage

"allows readers to explore new details about Eaves' journey as an artist as well as in each of his illustrations...innately bolstering their appreciation for the Star Trek fandom" - Culturess

 "massive, gorgeous, and a blast to read" - Fangirl Nation

"If you're a fan of John Eaves and his art, this lovely book from Titan Books is for you" - Trek Today

"a brilliant, career-spanning collection of not only the art, but of the creative process of one of Trek's most valued behind-the-scenes contributors" - TrekCore

"A treasure trove of exploration into a developing vision of the "Star Trek" universe, and this book goes into my permanent library." - True Review
Titan Books, 9781785659119, 208pp.
Publication Date: November 27, 2018
About the Author
Joe Nazzaro is a New Jersey/London-based entertainment journalist with more than a dozen books and 3,000 interviews to his credit. He has covered the Star Trek universe extensively for such magazines as Starlog, Starburst, TV Zone, Sci Fi Now and several licensed Star Trek magazines in the US and UK. Nazzaro previously wrote about the makeup FX of Star Trek in Star Trek Beyond: The Makeup Artistry of Joel Harlow (2017).