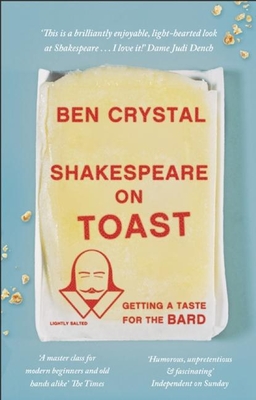 Shakespeare on Toast
Getting a Taste for the Bard
Paperback

* Individual store prices may vary.
Description
'A master class for modern beginners and old hands alike.' -- The Times (London) Actor, producer and director Ben Crystal revisits his acclaimed book on Shakespeare for the 400th anniversary of his death. Shakespeare on Toast knocks the stuffing from the staid old myth of the Bard, revealing his plays for what they really are: modern, thrilling, uplifting drama. Crystal explores his language, his life, his world, his sounds, his craft -- and, astonishingly, finds Shakespeare's own voice amid the poetry. Whether you're studying Shakespeare for the first time or you've never set foot near one of his plays but have always wanted to, this book smashes down the walls that have been built up around this untouchable literary figure.
Icon Books, 9781785780301, 272pp.
Publication Date: March 15, 2016
About the Author
Ben Crystal is an actor, producer, and artistic director of Passion in Practice and its Shakespeare Ensemble. He was the co-writer of Shakespeare's Words (Penguin, 2002) and The Shakespeare Miscellany (Penguin, 2005) with his father David Crystal, writer of the Springboard Shakespeare introductions (Arden Shakespeare/Bloomsbury, 2013) and co-writer of An Illustrated Dictionary of Shakespeare (OUP, 2015), again with his father. In 2011 he played Hamlet in Reno, Nevada, in the world contemporary premiere of the play in Original Pronunciation. He lives mostly in London. He works regularly at universities, theatres and Shakespeare festivals across the United States.