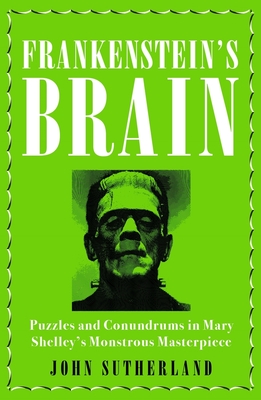 Frankenstein's Brain (Hardcover)
Puzzles and Conundrums in Mary Shelley's Monstrous Masterpiece
Icon Books, 9781785784088, 208pp.
Publication Date: November 13, 2018
Other Editions of This Title:
Paperback (2/11/2020)
* Individual store prices may vary.
Description
Where does Victor Frankenstein dig up his body parts?
Is the monster a fan of Goethe?
How does the monster die?
On the 200th anniversary of Mary Shelley's perennially popular and influential gothic tale, literary detective John Sutherland turns his expert eye on Frankenstein and unearths a trove of tantalising facts and arcane puzzles.
Among the topics to come under the microscope are: Does the monster have a penis? Is he a monster or a baby - or both? And, most important of all: who is the best on-screen Frankenmonster?
About the Author
John Sutherland is Lord Northcliffe Professor Emeritus at University College London and an eminent scholar in the field of Victorian fiction, author of many works including The Longman Companion to Victorian Fiction. He has also written the bestselling popular titles Is Heathcliff a Murderer?, Can Jane Eyre be Happy?, and Who is Dracula's Father?, all published by Icon.