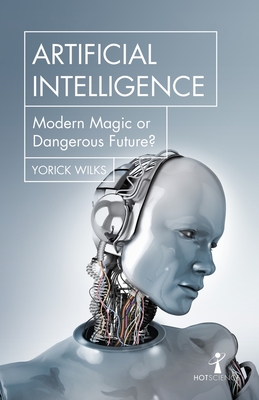 Artificial Intelligence
Modern Magic or Dangerous Future? (Hot Science)
Paperback

* Individual store prices may vary.
Other Editions of This Title:
Digital Audiobook (7/26/2021)
MP3 CD (8/24/2021)
Compact Disc (8/24/2021)
Description
Artificial intelligence has long been a mainstay of science fiction and increasingly it feels as if AI is entering our everyday lives, with technology like Apple's Siri now prominent, and self-driving cars almost upon us.
But what do we actually mean when we talk about 'AI'? Are the sentient machines of 2001 or The Matrix a real possibility or will real-world artificial intelligence look and feel very different? What has it done for us so far? And what technologies could it yield in the future?
AI expert Yorick Wilks takes a journey through the history of artificial intelligence up to the present day, examining its origins, controversies and achievements, as well as looking into just how it works. He also considers the future, assessing whether these technologies could menace our way of life, but also how we are all likely to benefit from AI applications in the years to come.
Entertaining, enlightening, and keenly argued, this is the essential one-stop guide to the AI debate.
Icon Books, 9781785785160, 176pp.
Publication Date: September 10, 2019
About the Author
Yorick Wilks is an emeritus Professor of Artificial Intelligence at the University of Sheffield, a research associate of the Oxford Internet Institute and a Senior Research Scientist at the Florida Institute of Human and Machine Cognition. He has been elected a fellow of the American and European Associations for Artificial Intelligence, and a permanent member of the International Committee on Computational Linguistics. His accolades include the Antonio Zampolli prize in honour of his lifetime work, and the British Computer Society's Lovelace Medal.His books include Artificial Companions (Benjamins, 2010) and Artificial Believers: The Ascription of Belief (with Afzal Ballim, Psychology Press, 1991).