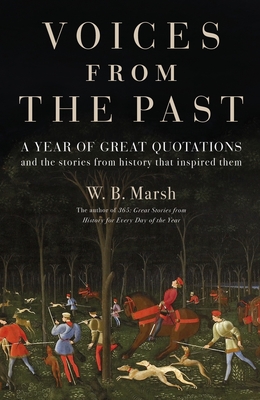 Voices from the Past (Hardcover)
A Year of Great Quotations - And the Stories from History That Inspired Them
Icon Books, 9781785786631, 720pp.
Publication Date: December 8, 2020
* Individual store prices may vary.
Description
In a treasure trove for history buffs, W.B. Marsh fleshes out the context behind famous quotations associated with each day of the year, sending us back and forth in history from the time of the Ancient Egyptians to the world we live in today.
'You furnish the pictures, I'll furnish the war.' (25 April 1898) Newspaper magnate William Randolph Hearst urges war artist Frederick Remington to stay in Cuba while Hearst publishes lurid tales of an imaginary conflict.
'I am tasting the stars ' (4 August 1693) The monk Dom P rignon tests the result of his new techniques in the making of sparkling wine, and champagne is born.
'From the sublime to the ridiculous is only a step.' (18 October 1812) Napoleon's all-conquering Grande Arm e begins its slow and ignominious retreat from Moscow.
About the Author
W.B. Marsh was born in New York City. He attended Deerfield Academy in Massachusetts before studying English at Princeton. He spent two years as a lieutenant in the US Marine Corps, stationed in Quantico, Virginia and then in Camp Pendleton in California. His subsequent career in advertising was spent primarily at Young & Rubicam, living and working across the world, and latterly at Saatchi & Saatchi in London, where he now lives. Voices from the Past is his fourth book, after 365, 366 and Tales of War, all of which were written with Bruce Carrick, who died in 2018.