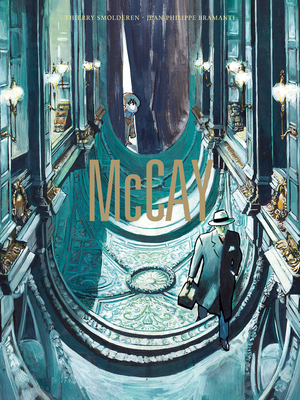 McCay (Hardcover)
Titan Comics, 9781785868856, 232pp.
Publication Date: November 20, 2018
* Individual store prices may vary.
Description
Get ready for a dizzying dive into the "McCay Dimension" with this true and false tribute to the undisputed master of the imagination.

McCay is an invented biography chronicling authentic - though only partially true - stories of the life of the future creator of Little Nemo, Winsor McCay - in which McCay's life is enriched by an imaginary encounter with British mathematician and science fiction writer Charles Hinton.

Hinton, as a mathematician and philosopher, postulates the existence of a fourth spatial dimension - and seeks an artist capable of representing it, one with an innate sense of perspective and a limitless imagination. In Winsor McCay, Hinton finds such a man, and when their imaginations combine, an entirely new world opens up to them both...
About the Author
Thierry Smolderen was born in 1954 in Brussels. He has been writing comics since the mid 1980s. A married father of two, Thierry Smolderen has lived in Angoulême since 1994. He teaches scriptwriting and the history of European comics at the École Européenne.

Jean-Philippe Bramanti was born in 1971 and drew his first comics at age 12. After earning a Baccalaureate, he studied at Luminy, Ecole des Beaux-Arts in Marseille, then for three years at the BD workshop of the School of Fine Arts of Angouleme.
Praise For McCay…
"Truly strange and truly wonderful" - The Observer, Best Books of 2018 

"Deeply strange, incredibly fun sf/fantasy noir with artwork that pales only to that of McCay himself" - Library Journal

"A brain-bending book ... peculiarly compelling" - SciFi Now

"Smolderen infuses McCay with a surreal, dreamlike plot ... Bramanti's art is stunning ... An inspired book in every sense of the word" - Foreword Reviews 

"Will hold you until the final page ... Highly recommended" - Down The Tubes

"The dreamscapes with which Nemo and Fiend interact are rich and full" - The Comics Journal

"Smolderen and Bramanti's McCay is the stuff that dreams are made of… and magically, much more" - Print Mag

"A captivating broad-strokes plot and fascinating small details ... an accomplished piece of work, and one you can return to many times with equal fascination" - Multiversity Comics

"Full of weird ideas and a pretty keen plot, all wrapped around a compelling (if fictional) portrait of a brilliant cartoonist" - Atomic Junk