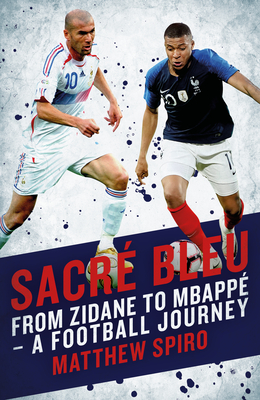 Sacre Bleu
From Zidane to Mbappé - A Football Journey
Hardcover

* Individual store prices may vary.
Description
Kylian Mbapp , aged just nineteen, was undoubtedly the most exciting talent to emerge from the 2018 FIFA World Cup. Significantly, Mbapp was born in the year of his country's first World Cup triumph.
From France's first World Cup victory in 1998 to their second in 2018, Les Bleus have experienced a journey that has been anything but easy. Two decades of extreme turbulence for both the national team and the country have also seen the birth, growth and emergence of football wunderkind Kylian Mbapp . This young, dynamic player has lifted the country's spirits; he is a precocious talent who has let his ability demonstrate a grace and certainty beyond his years, and a genius that is as lethal as it is quiet.
Sports journalist and broadcaster Matthew Spiro examines the reasons behind French football's glorious highs and its impossibly depressing lows. With the uniquely compelling Mbapp as the lens through which he examines the past twenty years of French football, Sacr Bleu poses compelling questions: does this current exciting generation of French footballers represent the start of an era of domination? Or will 2018 - much like 1998 - prove to be nothing more than a false dawn?
Through a focus on Mbapp , Spiro describes the hopes and fears of a whole nation as the world champions seek to add a second trophy to the current team's victory board.
Biteback Publishing, 9781785905544, 320pp.
Publication Date: September 17, 2020