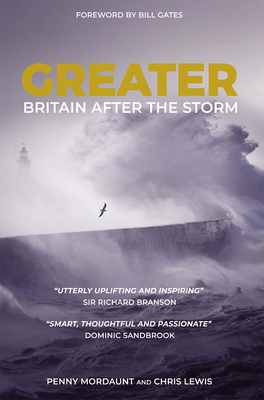 Greater
Britain After the Storm
Hardcover

* Individual store prices may vary.
Description
Is the Britain of 2021 a nation hopelessly divided? Stuck in outmoded political convention and economically outclassed on the world stage? Penny Morduant and Chris Lewis don't think so. And neither should anyone else. In this ground-breaking polemic, they argue that Britain is a country with still plenty to offer to ourselves and the world- a unique culture and history with endless economic opportunity and an unstoppable drive for innovation. It is an indispensable guide to the post-Brexit future for business, government and everything in between by two individuals with an unmatched experience of both.
Featuring a foreword by Elton John, Greater is a manifesto for hope and optimism, a guide for the future in times that are not nearly as troubled and crisis ridden as many would have us believe. Delving insightfully into our culture, our business practices and political conventions, they demonstrate that Brexit is far from a disaster. It is an unmissable opportunity for positive reform and preserving the values that can and will bring us together into a brighter future for all.
Biteback Publishing, 9781785906091, 352pp.
Publication Date: July 6, 2021