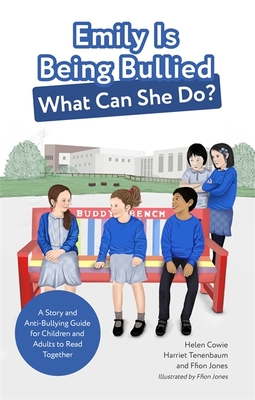 Emily Is Being Bullied, What Can She Do? (Paperback)
A Story and Anti-Bullying Guide for Children and Adults to Read Together
Jessica Kingsley Publishers, 9781785925481, 64pp.
Publication Date: November 21, 2018
* Individual store prices may vary.
Description
Meet Emily. She is being bullied by a group of children at school. She describes how this makes her feel, think and act. Eventually, she finds ways to help herself and also realises that she can get help from other people - both adults and other children. As well as the perspective of the child being bullied, this guide for children aged 7-11 portrays the view of bystanders and the bully, emphasising the difference everyone can make in a bullying situation. Based on the latest research in anti-bullying interventions and written in collaboration with leaders of the field, the book offers practical, tried-and-tested strategies for the prevention of bullying.
About the Author
Professor Helen Cowie is Emeritus Professor at the University of Surrey, MA, MSc, PhD, FBPS, PGCE, Dip in Psychotherapy. For over 25 years she has specialized in strategies to counteract school bullying. Dr Harriet Tenenbaum, PhD is a Reader in Developmental Psychology at the University of Surrey. Harriet's research interests include how children learn from everyday interactions with others, such as conversations with parents and peers and peer rejection. Dr Ffion Jones, PhD English Literature (Bangor) is an author and illustrator of several children's picture books.