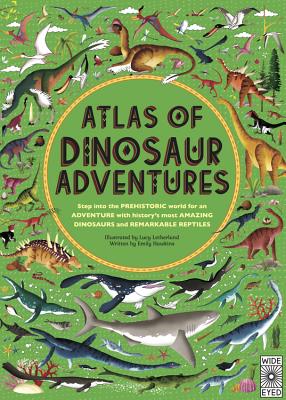 Atlas of Dinosaur Adventures (Hardcover)
Step Into a Prehistoric World
Wide Eyed Editions, 9781786030351, 96pp.
Publication Date: October 5, 2017
* Individual store prices may vary.
Description
From the team behind the best-selling Atlas of Adventures comes this prehistoric journey of discovery. You'll get to embark on over thirty dinosaur adventures that will take you all around the world! Travel back in time to lock horns with a triceratops, stalk prey with a T-Rex, and learn to fly with a baby Pteranodon. With hundreds of things to spot and facts to learn, this is the biggest Atlas adventure yet!
About the Author
Emily Hawkins is a writer and editor of children's books for all ages. She wrote the New York Times bestseller Oceanology, as well as several other titles in the Ology series, which has sold over 16 million copies worldwide. She holds a first-class English degree from Nottingham University, and now lives in Winchester with her young family.
Lucy Letherland is an illustrator based in London, UK. She graduated from Manchester School of Art in 2011 with a First Class BA (Hons) in illustration with animation. Lucy's work is strongly led by humor and narrative, creating a playful, graphic quality. Her books include Atlas of Adventures, Atlas of Adventures: Wonders of the World, Atlas of Animal Adventures, and Atlas of Dinosaur Adventures.
Praise For Atlas of Dinosaur Adventures: Step Into a Prehistoric World…
"Where do I even begin on how brilliant this book is? I adore the Atlas of series and this Dinosaur version is superb... rich illustrations...truly engaging" - Let Them Be Small

"An oversized feat of richly illustrated information" - Achuka

"We love everything about this book, from the quirky details worked into various illustrations to the effective use of big format double page spreads to really immerse little ones" - Read It Daddy

"A perfect gift for dinosaur-mad kids, or as a brilliant introduction for a new fan of all things scaly and scary, a clear and interesting read that could be dipped into or read from start to finish."  - BookTrust

"This book provides snapshot information about plate tectonics and various periods of the age of dinosaurs, highlighting specific dinosaurs via two-page spreads that detail archeological skeletons found in places throughout the world. The illustrations are rendered in pen and ink and show scenery of possible dinosaur habitats, although from time to time, a cartoonish illustration is thrown in for comic effect. Young students will enjoy browsing this oversize book. There are paragraphs of informational text included in each two-page spread, including a text box that gives the reader specific information about the dinosaur, where the first fossils were found, and an inset map that clarifies where in the world the findings occurred. The text is small and dense and at times gets lost in the illustrations, but there is plenty of information to be found for older readers." - Kay Evey, Teacher-Librarian, Retired from Tukwila Elementary School, Tukwila, Washington for School Library Connection

"Arranged geographically over six regions, this title introduces 31 dinosaurs with a combination of facts, narrative, and visual humor...VERDICT A strong option to bolster dinosaur collections." – Steven Engelfried, Wilsonville Public Library, OR for School Library Journal
This absorbing compendium puts prehistoric animals on the map. It's our map, not theirs: The continents appear as they are today rather than in the landmass configurations that prevailed in the Triassic, Jurassic and Cretaceous periods, making it easier to grasp the dinosaurs' extraordinary geographic span. Informative bursts of text and witty fillips here and there (e.g., a tiny Microraptor wears a goofy propeller hat) add fun to this engrossing volume for enthusiasts ages 4-10.
- Wall Street Journal
A strong option to bolster dinosaur collections.
- School Library Journal
"A world tour of reconstructed prehistoric landscapes based on modern fossil discoveries.Going continent by (modern) continent in a series of big, populous maps and full-spread scenes, Hawkins and Letherland feature 31 dinosaurs or prehistoric reptiles but add dozens of others—all identified, supplied with quick descriptive notes, and depicted in a simplified but reasonably realistic style. This adds up to a weighty bundle of names and facts, but the authors compensate by not taking their enterprise too seriously. Readers won't soon forget, for instance, that the "massive droppings" of T. Rex "were as long as a human arm," and sharp-eyed viewers will notice a Ceratosaurus carrying a butterfly net to bag prey, both a toothy T. Rex and a Giganotosaurus with napkins tied around their necks, and smaller hunters sporting the odd pith helmet or kerchief...A catastrophic meteorite (with proper references to the contemporaneous volcanism) brings both the era and the tour to a close. A big, breezy banquet of dino facts—and factoids." – Kirkus Reviews
"The colorful creatures that stalk through the oversize pages of 'Atlas of Dinosaur Adventures' have a simpler, more stylized look, but they too evoke a stunning variety of life forms. Written by Emily Hawkins and illustrated by Lucy Letherland, this absorbing compendium puts prehistoric animals on the map. It's our map, not theirs: The continents appear as they are today rather than in the landmass configurations that prevailed in the Triassic, Jurassic and Cretaceous periods, making it easier to grasp the dinosaurs' extraordinary geographic span. Informative bursts of text and witty fillips here and there (e.g., a tiny Microraptor wears a goofy propeller hat) add fun to this engrossing volume for enthusiasts ages 4-10." - Wall Street Journal
"Around the world and through the Triassic, Jurassic, and Cretaceous eras, dozens of dinosaurs, reptiles, and prehistoric creatures forage, nest, migrate, and battle, in Atlas of Dinosaur Adventures. A multifaceted catalogue of facts and wildlife commentary highlighted by Lucy Letherland's colorfully detailed artwork, the book features the exciting daily challenges faced by herds of Zuniceratops or scavenging Giganotosaurus along with evolving landscapes and geography, from fossil sites in India and Zimbabwe to Dinosaur Ridge, Colorado." - ForeWord Reviews