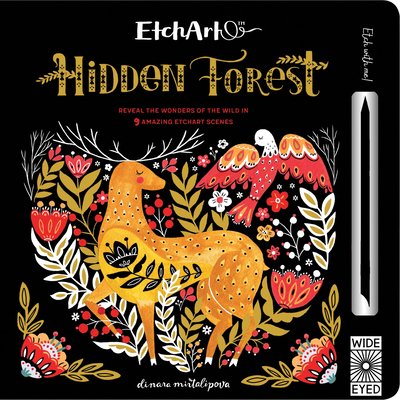 Etchart
Hidden Forest: Reveal the wonders of the wild in 9 amazing Etchart scenes
Hardcover

* Individual store prices may vary.
Description
Embark on a journey through nature with this stylish folk-art inspired activity book. With your stylus, etch away at nine beautiful woodland scenes to discover birds, bees, butterflies, deer, rabbits and other marvels hidden beneath stunning artwork made up of panels of special scratchable ink. With your stylus, remove all the ink, or create swirls, dots, and other patterns to personalise your very own piece of art. Let yourself be absorbed by this new creative hobby as you reveal the hidden beauty in each scene—and the artist in you!

This unique and mindful activity book will keep children—and adults—busy for hours. 
Praise For Etchart: Hidden Forest: Reveal the wonders of the wild in 9 amazing Etchart scenes…
'You may know of Etch Art from your childhood, so you'll be pleased to know the art form has returned to the shelves in the form of a wonderful children's book by self-described folklorist Dinara Mirtalipova'
- Digital Arts
'The outstanding illustrations in both books are by Dinara Mirtalipova. Really absorbing - a great escape from the pressures of the world. The results are stunning.' 
- Parents in Touch
'This beautiful folk-art activity book invites readers to etch pages to reveal a variety of animals in forest settings'
- Discover Animals
Wide Eyed Editions, 9781786030481, 20pp.
Publication Date: September 26, 2017
About the Author
Amanda Wood began her career in illustration at the Natural History Museum in London, and went on to be the founding Editor and Publisher of Templar for more than 30 years. In her time there, she published and nurtured numerous Greenaway winners, and edited and wrote groundbreaking series such as The Ologies, which have sold over 19 million-copies worldwide. Today she writes and runs her own small press from her home in Surrey.
Mike Jolley has worked as an Art Director in children's books for over 25 years. He also sells artwork made from found objects, under the name 'Box 2'. It was during one of his many junk shop visits that the idea of using midcentury school information charts for Curiositree first took shape. He lives on a cliff overlooking the English Channel.
DINARA MIRTALIPOVA is a self- taught illustrator/designer. Born and raised in Tashkent, Uzbekistan, she eventually landed in snowy Ohio. Raised in Soviet Uzbek culture, she inhabited Uzbek/Russian folklore that still influences her work. For a long time Dinara has been among illustrators and designers at American Greetings. She left her creative role at American Greetings in February 2014 to pursue her ever growing freelance career and to start a new chapter as a free spirit independent designer. Currently Dinara works from her home studio in Sagamore Hills, OH.