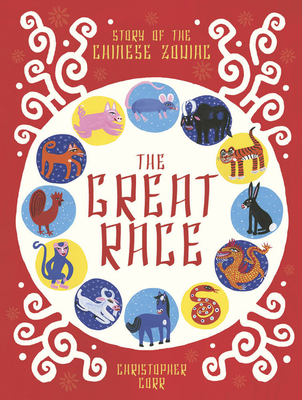 The Great Race (Hardcover)
The Story of the Chinese Zodiac
Frances Lincoln Children's Books, 9781786030658, 32pp.
Publication Date: January 4, 2018
* Individual store prices may vary.
Description
Celebrate Chinese New Year and learn how every animal earned its place in the Chinese zodiac by taking part in the Great Race! Discover who will come first to win the ultimate prize, and find out why Cat will never forgive his friend Rat in this ancient folk tale that has been passed from generation to generation. 

Praise for Deep in the Woods, the previous title from Christopher Corr:
'… the book looks like a delectable candy box… There is a lesson here — about friendship, and sharing — but the book never feels plodding or pedantic… Which may be why the lesson just goes down like the truth.'
About the Author
Christopher Corr is an established author/illustrator whose many books have won him international acclaim. They include The Great Race, A Year Full of Stories, and Deep in the Woods. He studied at the Royal College of Art, and now lives and works in London as an artist and tutor at Goldsmiths University.
Praise For The Great Race: The Story of the Chinese Zodiac…
"In gorgeous naif artwork, we see the black-bearded emperor throwing his arms wide in his colorful robes, his tiered red headdress a visual echo of a nearby pagoda. Rat arrives first, having failed to wake his best friend, Cat, and having forded the river on the back of Ox. Ox wins second place, and so it goes, animal after animal, until Cat arrives, too late to make the zodiac and spitting mad. And that is why, children, through 'all the many years leading up to this day . . . rats have always fled from cats!'"
- Wall Street Journal
This is an easy introduction to the Chinese zodiac for young students. Recommended"
 
- School Library Connection
"In retelling the-traditional tale, Corr skillfully weaves in traits associated with some of the animals. Corr's distinctive folk-art style gouache illustrations are fun, bright, and bold....a good choice for classroom read-alouds....A visually fun and vibrant retelling of the Chinese Zodiac."
- School Library Journal
' A stunningly illustrated story of how the Chinese zodiac came to be'
- Picture Book Blogger
'This read-aloud story also provides a great stepping stone for introducing other cultural ideas to young children.'
- BookTrust
"An animated introduction to Chinese culture and folklore, Christopher Corr's The Great Race: Story of the Chinese Zodiac fuses bright colors and lively characters. The wise Jade Emperor's plan to measure time motivates the entire animal kingdom to take action. Find out who is playful, gentle, sneaky, or lucky, and who misses out entirely, as a horse, monkey, dragon, rat, ox, tiger, and others compete for a place of honor on the newly created calendar."
- ForeWord Reviews
"Corr's vignettes and spreads blaze with color, and his folk-art-style paintings give the figures sinuous contours and stylized eyes. Against backgrounds of contrasting colors, the animals seem to pop off the page."
- Publishers Weekly