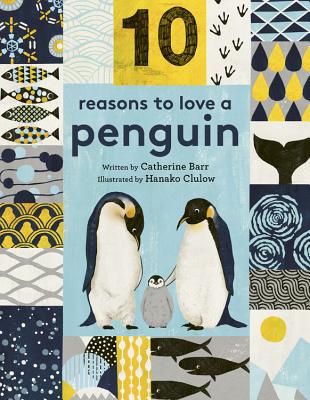 10 Reasons to Love ... a Penguin (10 reasons to love a...) (Hardcover)
Frances Lincoln Children's Books, 9781786031358, 24pp.
Publication Date: June 12, 2018
* Individual store prices may vary.
Description
Penguins are the cutest birds! Did you know that they go on incredible journeys? Or that they toboggan on their stomachs? Discover ten reasons why penguins are amazing and five ways you can show they love them in this gorgeous picture book. A must for any young animal enthusiast and a fantastic introduction to environmental issues.
About the Author
Catherine Barr studied Ecology at Leeds University and trained as a journalist. She worked at Greenpeace International for seven years as a wildlife and forestry campaigner and has a long-running interest in environmental issues. While working as an editor at the Natural History Museum, she researched and wrote two major summer exhibitions: Dinosaurs of the Gobi Desert and Myths and Monsters. She is now a partner in communications company bwa design. She lives on a hill near Hay-on-Wye in Herefordshire with her partner and two daughters. She is a proud Patron of Reading for a local school, and mother of two teenage girls. Catherine's first book, The Story of Life, was shortlisted for The English Association Picture Book Award.