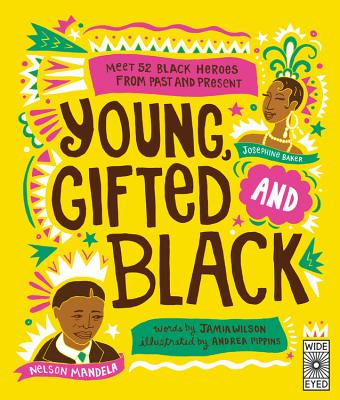 Young Gifted and Black (Hardcover)
Meet 52 Black Heroes from Past and Present
Wide Eyed Editions, 9781786031587, 64pp.
Publication Date: February 1, 2018
* Individual store prices may vary.
Description
"...to be revisited again and again…The candy-colored pages and straightforward stories are hard to resist…" –The New York Times

"...diverse collection of iconic figures…vibrantly illustrated…beautifully crafted volume…" –Kirkus Reviews, Starred Review

"…exuberant…exquisitely designed…a launching point for more discoveries." –School Library Journal, Starred Review

"A luminous and diverse tribute to black movers and shakers across the centuries." –Publishers Weekly

Meet 52 icons of color from the past and present in this celebration of inspirational achievement—a collection of stories about changemakers to encourage, inspire, and empower the next generation of changemakers. Jamia Wilson has carefully curated this range of black icons and the book is stylishly brought together by Andrea Pippins' colorful and celebratory illustrations.
 
Written in the spirit of Nina Simone's song "To Be Young, Gifted, and Black," this vibrant book is a perfect introduction to both historic and present-day icons and heroes. Meet figureheads, leaders, and pioneers such as Martin Luther King Jr., Nelson Mandela, and Rosa Parks, as well as cultural trailblazers and athletes like Stevie Wonder, Oprah Winfrey, and Serena Williams.

All children deserve to see themselves represented positively in the books they read. Highlighting the talent and contributions of black leaders and changemakers from around the world, readers of all backgrounds will be empowered to discover what they too can achieve. Strong, courageous, talented, and diverse, these extraordinary men and women's achievements will inspire a new generation to chase their dream…whatever it may be.
 
The 52 icons: Mary Seacole, Matthew Henson, Ava Duvernay, Bessie Coleman, Barack Obama, Michelle Obama, Chimamanda Ngozi Adichie, Cathy Freeman, George Washington Carver, Malorie Blackman, Harriet Tubman, Mo Farah, Jean-Michel Basquiat, Jesse Owens, Beyonce Knowles, Solange Knowles, Katherine Johnson, Josephine Baker, Kofi Annan, Langston Hughes, Toni Morrison, Brian Lara, Madam C.J. Walker, Yannick Noah, Maurice Ashley, Alexandre Duma, Martin Luther King, Jr., Maya Angelou, Nina Simone, Simone Biles, Stevie Wonder, Esperanza Spalding, Sidney Poitier, Oprah Winfrey, Pele, Nelson Mandela, Louis Armstrong, Rosa Parks, Naomi Campbell, Samuel Coleridge-Taylor, Muhammad Ali, Shirley Chisholm, Steve McQueen, Zadie Smith, Usain Bolt, Wangari Maathai, Mae Jemison, W.E.B. Du Bois, Nicola Adams, Serena Williams, Venus Williams, and Misty Copeland.
About the Author
Jamia Wilson is the executive director and publisher of the Feminist Press. She is a leading voice on feminist and gender justice issues whose words have appeared in and on the New York Times, The Guardian, BBC News, The Today Show, CNN, The Washington Post, Elle, Teen Vogue, and more. Jamia is the co-author of Road Map for Revolutionaries: Resistance, Activism, and Advocacy for All. She is also a columnist for Rookie Magazine and has contributed to several books such as Nasty Women: Feminism, Resistance, and Revolution. Jamia is an adjunct professor at the John Jay School for Criminal Justice and travels across the US—and beyond—to to talk about race, feminism, leadership, and so much more.
ANDREA PIPPINS is an illustrator, designer, and author who has a passion for creating images that reflect what she wants to see in art, media, and pop culture. Her vision is to empower people of color with tools and inspiration to create and tell their own stories. She is the best-selling creator of the coloring book I Love My Hair and the interactive journal Becoming Me. Her clients include O: The Oprah Magazine, Scoop Magazine, Family Circle, The Huffington Post, Bustle, Free People, Lincoln Center, and the National Museum of African American History and Culture. Andrea is based in Stockholm, Sweden. Follow @andreapippins on Instagram and visit her website at andreapippins.com.
Praise For Young Gifted and Black: Meet 52 Black Heroes from Past and Present…
"to be revisited again and again…The candy-colored pages and straightforward stories are hard to resist…" –The New York Times
- The New York Times
"…exuberant…exquisitely designed…a launching point for more discoveries." –School Library Journal, Starred Review
- School Library Journal
"Diverse collection of iconic figures…vibrantly illustrated…beautifully crafted volume…" –Kirkus Reviews, Starred Review
- Kirkus Reviews
"A luminous and diverse tribute to black movers and shakers across the centuries." –Publishers Weekly
- Publishers Weekly