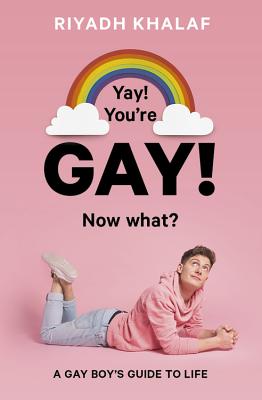 Yay! You're Gay! Now What? (Paperback)
A Gay Boy's Guide to Life
Frances Lincoln Children's Books, 9781786033659, 224pp.
Publication Date: April 16, 2019
* Individual store prices may vary.
Description
Yay! You're gay! Or maybe you're bi. Or maybe you just feel different… in time, that difference will become the greatest gift you could ask for. It will bring you love, a sense of identity, a new community, and eventually the freedom to be yourself. I promise!

In this personal, heartfelt go-to guide for young queer guys, YouTuber and presenter Riyadh Khalaf shares frank advice about everything from coming out to relationships, as well as interviews with inspirational queer role models, and encouragement for times when you're feeling low. There's a support section for family and friends written by Riyadh's parents and LOADS of hilarious, embarrassing, inspiring and moving stories from gay boys around the world. 

Includes chapters on:
• Labels – what does it mean to be gay, bi, trans or queer?
• Coming out
• Your first crush
• Dealing with bullies
• Learning to love your body
• Sex ed for gay guys 
• Coping with embarrassing moments
• Finding your tribe

 
About the Author
Riyadh Khalaf is a presenter and YouTube creator and one of the internet generation's most prominent LGBT faces. His media career began at age 16 when he launched a pirate radio station from his bedroom. Since then he has presented and produced award-winning radio in Ireland and Australia. His BBC series Queer Britain aired on BBC1 and he has presented original online content for MTV UK, The Guardian, and RTÉ. Riyadh's YouTube channel has amassed over 350,000 subscribers. Originally from Dublin, he now lives in London.