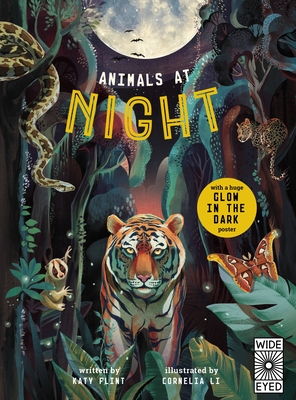 Glow in the Dark (Hardcover)
Animals at Night: with a huge Glow in the Dark poster
Wide Eyed Editions, 9781786035400, 24pp.
Publication Date: July 16, 2019
* Individual store prices may vary.
Description
Meet the animals that come out at night in this nocturnal adventure across the globe's habitats, including a glow-in-the-dark poster of the deep sea.

See the jaguar prowling the Amazon rain forest, spot the lion pride on the African savanna, and visit a turtle nesting beach under the stars. Then, turn off the lights to see the ocean creatures glow on the 24" × 11.5" tear-out poster. (Be sure to charge it in the light first.)

Each spread features an enchanting illustration of a different nighttime habitat animated by a description of the activities of its various creatures, told in lulling prose. Fact boxes call out the names of the different animals and their unique qualities. Learn about the rain forest mammals called kinkajous, who slurp flower nectar by night and nest in tree hollows by day, and the rare and mysterious night parrots, who emerge after sunset in the Australian outback to feed on the seeds of spinifex bushes, among many other amazing nocturnal creatures.

The wonderful starlit habitats you'll explore:
City
Rain forest
Beach
Australian outback
Woodland
Arctic
Mountains
Mangrove forest
Desert
Coral reef
Savanna
About the Author
  Cornelia Li is a Chinese born illustrator currently based in Toronto, Canada. Her clients include: New York Times, Chicago Readers, PBS Newshour, Reader's Digest Canada. 
Katy Flint is an author, editor, and musician, based in London. She studied violin at the University of Southampton, before moving into children's books. She is the author of the best-selling sound book The Story Orchestra: The Nutcracker, and has worked on many other non-fiction titles—from human bodies to dinosaurs.