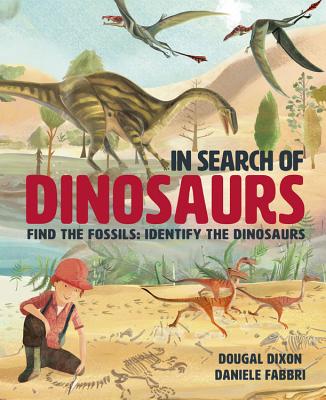 In Search Of Dinosaurs (Hardcover)
Find the Fossils: Identify the Dinosaurs
words & pictures, 9781786035493, 44pp.
Publication Date: May 21, 2019
* Individual store prices may vary.
Description
Look out for dinosaur bones, footprints, and fossil feathers on your dinosaur dig site, before opening the gatefolds and uncovering the creatures to whom they once belonged, in 3 incredible, expansive panoramic scenes. Travel through Triassic, Jurassic, and Cretaceous eras, hunting for fossils and then learning about each amazing prehistoric creature, before testing your knowledge with a fun dinosaur quiz. Grab your paleontologist's tool kit and get stuck in with facts, stats, and colorful illustrations to amaze any young dinosaur enthusiast.
About the Author
Dougal Dixon studied geology and paleogeography at the University of St Andrews, Scotland. He is an award-winning author specializing in the earth sciences and evolution with many children's books and encyclopaedias to his name. He has acquired a reputation for putting over concepts in a totally novel way. Along these lines, his most notable books are After Man: A Zoology of the Future in which he explained the workings of evolution by postulating the types of animals that may evolve in times to come, and The New Dinosaurs, in which he described the zoogeography of the world by describing what life might be like today had the dinosaurs not become extinct. 
Daniele Fabbri is an award winning illustrator who lives and works between Ravenna and Reggio Emilia, in Italy. He has lived all across the world including in America, England, France, and Germany, where he has worked in advertising, publishing, children's books, magazines, and animation. 
Praise For In Search Of Dinosaurs: Find the Fossils: Identify the Dinosaurs…
"A refreshing and unique take on the typical dinosaur book"
- Mandy Simon, School Library Journal
"Learn the tricks and tools of the trade while uncovering secrets from millions of years ago"
- Foreword Reviews
"Both young readers and exasperated adults who have exhausted their dinosaur collections will welcome this crowd-pleasing, novel approach"
- Kathleen McBroom, Booklist