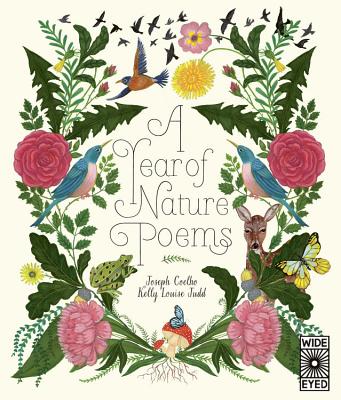 A Year of Nature Poems (Hardcover)
Wide Eyed Editions, 9781786035837, 32pp.
Publication Date: January 8, 2019
* Individual store prices may vary.
Description
A poem for every month, this is a beautiful anthology of nature poems by best-loved children's poet, Joseph Coelho encourages a love for the natural world and the importance of looking after it. 

⭐⭐⭐⭐⭐'a treasure for you and your child to share'
⭐⭐⭐⭐⭐'stunning illustrations'
⭐⭐⭐⭐⭐'a true celebration of the world we live in'

See how animals behave through the seasons, and the cycle of trees and plants, from the first blossoms of spring through to the stark winter wonderland in December. Twelve inspiring poems from Joseph Coelho, one for each month of the year, paired with folk art from Kelly Louise Judd give this book year-round appeal. A beautiful book for your bookshelf, to spark an idea for your own poem, or to teach a love for nature and to help children foster a love for the natural world. 

'Heart-flutteringly lovely and powerful' - Book Trust

'In the classroom, this book could be used as a reference for writers to create their own season poems; play with the language of the original poems or pair their own personal memories with the weather or changing seasons.' - North Somerset Teachers Book Award

'This will appeal to all ages and never date...' - LoveReading4Kids
About the Author
Joseph Coelho is a London-born poet and children's author. His poems have been published in several anthologies including Green Glass Beads, edited by Jacqueline Wilson. Joseph has been a guest poet on CBeebies Rhyme Rocket, where he was beamed up from The Rhyme Rock to perform his Bug Poem and was featured alongside Michael Rosen and Valerie Bloom on Radio 4's Poetry Playtime. His debut children's collection, Werewolf Club Rules, was the winner of the 2015 CLPE CLiPPA Poetry Award. His collection for older readers, Overheard In A Tower Block, was long-listed for the 2018 Carnegie Medal and short-listed for the 2018 CLPE CliPPA Poetry Award. He is featured in Teach Poetry a 10 part BBC online series that aims to make the writing of poetry fun and accessible to all. In addition to poetry, Joseph also writes picture books, like the heart-rending If All The World Were..., named as a Guardian Book Of The Month. All of his work has poetry and an element of performance at their heart, making his festival and school sessions dynamic occasions.