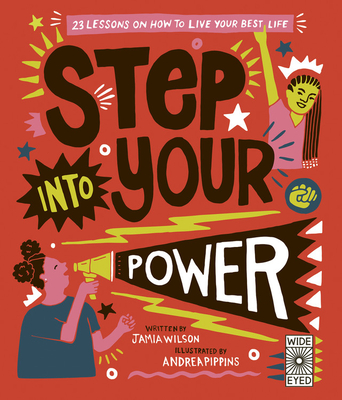 Step Into Your Power (Hardcover)
23 lessons on how to live your best life
Wide Eyed Editions, 9781786035868, 64pp.
Publication Date: March 5, 2019
* Individual store prices may vary.
Description
From the team who brought you Young Gifted and Black: Meet 52 Black Heroes from Past and Present comes a brightly illustrated follow-up guide that will teach you to harness your own power to achieve greatness.

Listen up! You've heard about heroes and read about the greats, but how do you actually get there yourself? This book shows you how to make your big dreams a big reality. Learn from the lived experience of author Jamia Wilson and illustrator Andrea Pippins as they mentor you through growing up in the modern world, and teach you how to STEP INTO YOUR POWER.

"Slay your fear!" "You've got this!" "Take heart and trust your gut!" In this friendly guide, mentor Jamia Wilson helps you achieve your dreams and know your rights with caring advice and actions you can take and make your very own. Explore what it means to know and trust your insights and capabilities with stories, images, activities, resources, and action prompts that you can interact with on your own time and, most importantly, on your terms.

Unlock your power and be yourself—you may just change the world!
About the Author
Andrea Pippins is an illustrator, designer, and author who has a passion for creating images that reflect what she wants to see in art, media, and pop culture. Her vision is to empower people of color with tools and inspiration to create and tell their own stories. She is the best-selling creator of the coloring book I Love My Hair and the interactive journal Becoming Me. Her clients include O: The Oprah Magazine, Scoop Magazine, Family Circle, The Huffington Post, Bustle, Free People, Lincoln Center, and the National Museum of African American History and Culture. Andrea is based in Stockholm, Sweden. 
Jamia Wilson is the executive director and publisher of the Feminist Press. An activist and writer, Wilson has contributed to New York Magazine, the New York Times, The Today Show, CNN, BBC, Teen Vogue, Elle, Refinery 29, Rookie, and The Guardian. She is the author of Young, Gifted, and Black (Wide Eyed Editions), a co-author of Road Map for Revolutionaries (Ten Speed Press) and wrote the introduction and oral history to Together We Rise: Behind the Scenes at the Protest Heard Around the World (Dey Street Books).