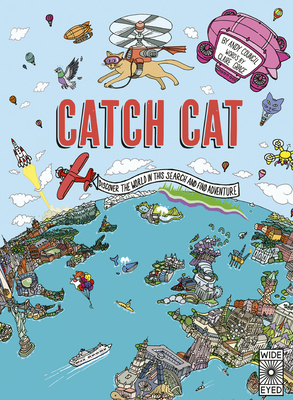 Catch Cat (Hardcover)
Discover the world in this search and find adventure
Wide Eyed Editions, 9781786037664, 32pp.
Publication Date: September 3, 2019
* Individual store prices may vary.
Description
Spot the elusive world-traveling cat hiding in 7 intricately illustrated continent maps, paired with explanatory spreads featuring a selection of the fascinating creatures, people, iconic buildings, and geological features that make each continent unique.

Geography has never been more fun! Travel the world, from North America to Antarctica and every continent in between, in search of cat while you discover myriad natural and man-made wonders—all packed cleverly into the colorful maps.

Did you spot the pink dolphins frolicking in the Amazon River? Or Bran Castle, Romania's national monument and the setting for Bram Stoker's Dracula? How about the rockhopper penguins of Antarctica, sporting their distinctive yellow-streaked hairdos? And the Great Pyramid of Giza in Egypt, thought to be built from 2.3 million blocks?

To discover these cool places and more, pack your bags and get ready to explore.
About the Author
Irish-born Claire Grace studied English and Philosophy before becoming a commissioning editor of children's books. She is the author of many books for children and has worked on a collection of award-winning titles. She now lives in London where she spends her time writing, drinking coffee and dog spotting.  
Born in the Georgian city of Bath, Andy Council now lives in nearby Bristol, UK where he loves the creative vibe. His work is full of urban detail and he's drawn everything from huge cutaway diagrams of cityscapes through to dinosaurs made from streets and houses.