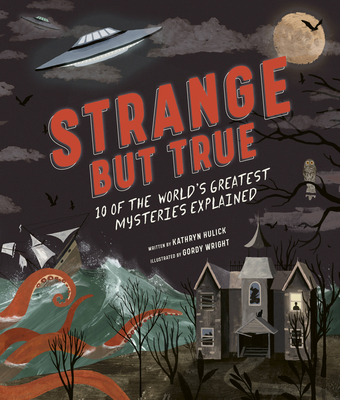 Strange but True (Hardcover)
10 of the world's greatest mysteries explained
Frances Lincoln Children's Books, 9781786037848, 128pp.
Publication Date: October 1, 2019
* Individual store prices may vary.
Description
Prepare to have your mind blown! As you explore ten of the world's greatest unsolved mysteries, you'll witness a UFO encounter, search for the lost city of Atlantis, tour a haunted house, and discover the kraken's true form. Along the way, you'll use the scientific method and sharp thinking to separate fact from fiction and explain the unexplainable.

Learn how sightings of flying saucers and stories of alien abductions can be explained by sleep paralysis, false memories, and hypnosis. Find out what pareidolia is and how this psychological phenomenon may explain some ghost sightings. Explore possible real locations for the lost city of Atlantis. Beautiful, haunting illustrations set the mood and spark the imagination.

Discover the fascinating truth surrounding these mysteries and legends:
Alien abductions, including the Roswell incident
Psychics
Mysterious disappearances, including plane MH370
Zombies
Ancient aliens, including the Nazca Lines
Curses, including King Tut's tomb
Monsters of the Deep, including Nessie the Loch Ness monster
The search for Atlantis
Ghosts and haunted mansions
Bigfoot
About the Author
Kathryn Hulick is a freelance writer, editor and former Peace Corps volunteer. She writes regularly for Science News for Students and Muse magazine. She has also published numerous nonfiction books on topics such as video games, artificial intelligence, energy technology and dinosaurs. Hulick's favorite part of writing about science is getting to speak with researchers in many different fields. Once, she spoke with an expert on parallel universes while he was shoveling snow from his driveway. Another time, she called a biologist who was out in the field in Africa, watching a herd of elephants. In addition to writing, she enjoys hiking, gardening, painting and reading. Hulick lives in Massachusetts with her husband, son and dog.
Gordy Wright is an illustrator and printmaker. He creates textured artwork using a variety of traditional techniques, throughout which he likes to evoke a sense of nature and weave a narrative. He lives and works in Bristol, UK. 
Praise For Strange but True: 10 of the world's greatest mysteries explained…
"Science rules the day, but "at the same time, keep an open mind": wise words
- Kirkus Reviews
"Kathryn Hulick's Strange But True is a wonderful antidote to the pseudoscience peddled to viewers on various cable shows and web sites. It's well-written and the artwork is fantastic. Great for kids and teens, But I also think most of my university students would benefit from reading Strange But True."
- Kenneth Feder, Central Connecticut State University
"Hulick encourages readers to deliberate on each mystery independently and provides sage guidelines for reaching conclusions."
- Publishers Weekly
"A useful addition to a collection serving curious middle grade students"
- School Library Journal