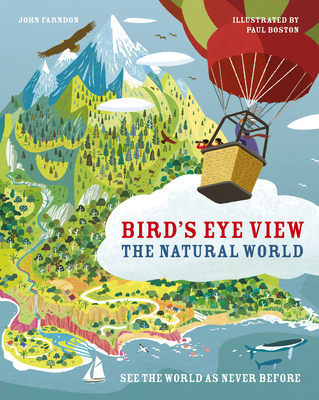 The Natural World (Hardcover)
See the World as Never Before (Bird's Eye View)
words & pictures, 9781786038937, 44pp.
Publication Date: July 16, 2019
* Individual store prices may vary.
Description
Get ready for the journey of a lifetime…up in the sky! Bird's Eye View: The Natural World takes you on an amazing, fact-filled aerial journey around the world with stunning views of its landscapes, and the animals and plants that live in them. Three of the twelve soaring panoramas fold out on each side to create fabulous double-wide vistas.

Discover the incredible natural world as you float over:
The Florida Everglades
Tropical South America
Coral islands in the Pacific Ocean
Uluru rock in Australia
China's magical Guilin Hills
The Central Asian steppe
The Himalayas
The African Serengeti
A Welsh river
Northern Scandinavia
Sea cliffs of the Irish coast
French countryside
Each gorgeous spread introduces a new region from above, with text describing its key geological features and inhabitants. Along the bottom of the page, illustrations identify a selection of the location's animals and plants, and a globe pinpoints where it is on the map. Included in the scenes is evidence of the damage that humans can do, like oil pollution in the Arctic ocean and deforestation in the Amazon.

Join the great white egret as you fly over the Everglades and the whooper swans as you soar over the Arctic. Spot the gray reef sharks swimming the lagoon of a coral atoll, the red kangaroos bounding across the Australian desert, the herds of wildebeest migrating across the Serengeti, and the snow leopard prowling the foothills of the Himalayas. Look at the world differently, with a bird's eye view.
About the Author
John Farndon is an internationally renowned author of exciting and accessible science books for children and adults. His books have been shortlisted for numerous awards and have sold millions of copies worldwide, proving their perennial appeal.
Paul Boston studied illustration and sequential design and has been illustrating for over 15 years. He lists his inspirations as 1950's children's books, antique maps and Japanese prints, to name just a few. Paul's charming depictions of people and places have been commissioned for global advertising campaigns and publishing projects.