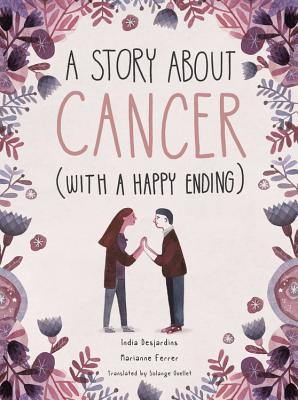 A Story About Cancer With a Happy Ending (Hardcover)
Lincoln Children's Books, 9781786039774, 96pp.
Publication Date: January 29, 2019
* Individual store prices may vary.
Description
I think about everything I'll miss if they tell me I'm going to die . . . my mom, my dad, my sister, cookies, TV shows I'll never get to see the end of, walking outside when it's really nice, the smell of fall, the starry sky on a full moon, my grandparents, my grandpa's lasagna, kissing Victor, Victor's eyes, Victor's voice, Victor's smell, Victor's hands . . . Victor.

A teenage girl heads towards the hospital waiting room where the doctors are going to tell her how much time she's got to live. As she walks, she thinks about her journey up to this point . . . the terrible decor in the hospital, wearing a headscarf, the horrible treatments, but also being with her friends, family, and her new boyfriend Victor. This is a story about cancer with a happy ending. It's about life, love, and especially, hope. 
About the Author
India Desjardins is a French-Canadian writer who lives in Quebec. Her eight-book series The Journal of Aurélie Laflamme has been adapted for the big screen and sold more than 2 million copies in the French language. Her picture book, Marguerite's Christmas, illustrated by Pascal Blanchet, won the prestigious Bologna Ragazzi Fiction Prize. She has also written two volumes of the comic La Célibataire.