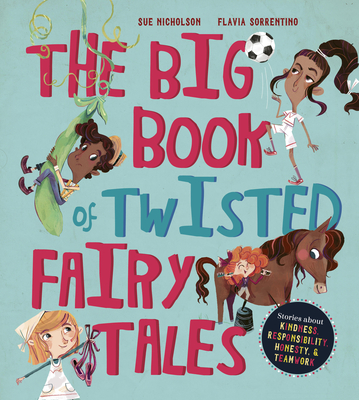 The Big Book of Twisted Fairy Tales (Hardcover)
Stories about kindness, responsibility, honesty, and teamwork (Fairytale Friends)
QEB Publishing, 9781786039880, 96pp.
Publication Date: June 18, 2019
* Individual store prices may vary.
Description
Once upon a time, there was a misty blue mountain. Below the misty blue mountain was a wild, dark forest and by the wild, dark forest was a village. The village had a stream and a duck pond and an old red apple tree and it was home to Cinderella and her fairytale friends.

The Fairytale Friends series brings fairy tales into the modern day and features scenarios that young children can relate to and learn from. Each story in this new picture book series focuses on a different fairy tale character, a different strength or core virtue, and a challenge to overcome, often with the help of their friends. Readers will enjoy spotting characters from other books and recognizing key elements of the original fairy tale while enjoying the new twist. Notes and questions at the back of the book will summarize what the character has learnt and prompt further discussion while activities will provide more fairytale fun. 
 
Cinderella wants more than anything to have lessons at the new dance school opening in the village, but she doesn't have any ballet shoes! Can Cinderella's fairytale friends help make her dream come true? This story teaches children about the value of kindness.
 
Beauty has a lovely pony called Flick, but having a pony is hard work and Beauty can be a bit lazy sometimes. Then, one night, Flick runs away. Will he ever come back? This story teaches children about the value of responsibility.
 
Jack loves climbing, but he isn't allowed to climb the beanstalks in his garden. One night, Jack can resist no longer and starts to climb the tall, green beanstalks. Will Jack's Mum find out? And will he tell her the truth? This story teaches children about the value of honesty.
 
Snow White is one of the village football team's best players. But she wants to score all the goals herself and never passes the ball to her friends. Will she ever learn to play as part of a team? This story teaches children about the value of teamwork.
 
About the Author
Sue Nicholson was previously an editor for several publishers, including Macmillan Education, DK, and Kingfisher. She has written books for all ages on a wide variety of subjects, but her particular interest is in producing material for the under-5s and early readers. Sue loves writing original fiction and non-fiction and re-telling and adapting stories.
Flavia Sorrentino lives and works as a freelance illustrator in Rome. She loves her city and the figure of speech, "Rome wasn't built in a day", which inspires her each day to seek new ways of communication and expression. She has a true passion for Toulouse Lautrec, poetry, historical costume, typography, Tina Turner, and tomato sauce!