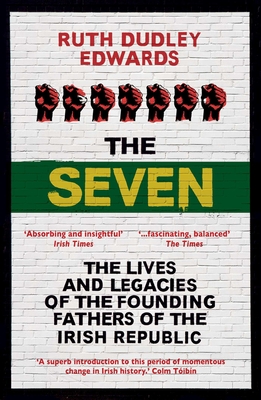 The Seven (Paperback)
The Lives and Legacies of the Founding Fathers of the Irish Republic
Oneworld Publications, 9781786070739, 416pp.
Publication Date: February 5, 2019
Other Editions of This Title:
Hardcover (3/22/2016)
* Individual store prices may vary.
Description
On Easter Sunday, 23 April 1916, the seven members of the Irish Republican Brotherhood's military council met to proclaim an Irish Republic with themselves as the provisional government. After a week of fighting with the British army on the streets of Dublin, the Seven were arrested, court-martialled and executed.

Cutting through the layers of veneration that have seen them regarded unquestioningly as heroes and martyrs by many, Ruth Dudley Edwards provides shrewd yet sensitive portraits of Ireland's founding fathers. She explores how an incongruous group, which included a communist, visionary Catholic poets and a tobacconist, joined together to initiate an armed rebellion that changed the course of Irish history. Brilliant, thought-provoking and captivatingly told, The Seven challenges us to see past the myths and consider the true character and legacy of the Easter Rising.
About the Author
Ruth Dudley Edwards is a leading commentator on Irish affairs in both the Republic of Ireland and the United Kingdom. The author of several books on Irish history, including biographies of James Connolly and Patrick Pearse, she was awarded the James Tait Black Prize for her biography of Victor Gollancz. Ruth was born in Dublin and now lives in Westminster, London.
Praise For The Seven: The Lives and Legacies of the Founding Fathers of the Irish Republic…
'In telling the stories of perhaps the most influential of all Irish national heroes…Ruth Dudley Edwards has written a fascinating, balanced and highly readable book based on thorough research.'
— The Times

'Fascinating and penetrating…innovative and engaging…can be welcomed as an important contribution to the discussion and a serious contribution to our understanding of an extremely complex and challenging period in modern Irish history.'
— Irish Independent

'With its sharp observations…as well as its demystifying impulse and wry alertness to every nuance of 1916-symbolism, The Seven is an important book. It disentangles the strands of motivation and aspiration which previous generations had tended to lump together'.
— Times Literary Supplement

'Fascinating'
— Catholic Herald

'Highly entertaining and engagingly irreverent.'
— New York Times Book Review

'Dudley Edwards…clearly knows how to entertain as well as inform. This book feels like the result of a lifetime's research, neatly condensed into a colourful narrative that readers of all political persuasions should be able to enjoy'.
— Sunday Business Post

'Dudley Edwards brings a forensic eye to these rebel lives'.
— Literary Review

'A first rate read. Moving the narrative along with colour, verve, pace and attitude'
— Sunday Independent

'If the Easter Rising was a passion play in which real gore was spilt, Dudley Edwards represents its leading actors as terrorists rather than freedom fighters. But she brings them to life with empathy and zest'.
— Sunday Times

'The sketches are succinct, sympathetic and sometimes mordantly funny'.
— Evening Standard

'Absorbing and insightful'.
— Irish Times

'Written with great verve and zest, as well as judicious tough-mindedness, Ruth Dudley Edward's The Seven is an overdue reexamination of the remorseless nationalist faith that led not only to the Easter Rebellion but to the Troubles beyond. For anyone keen on understanding why the question of Irish identity and Irish nationhood remains so vexed, Ruth Dudley Edwards's study is essential… The Easter Rebellion has inspired fine historians, from F.?S.?L. Lyons and J.?J. Lee to Charles Townshend and Lord Bew. Now, to their illustrious company, we can add Ruth Dudley Edwards.'
— The Weekly Standard

'Ruth Dudley Edwards' The Seven offers astute pen portraits of the leaders of the 1916 Rebellion. Her analysis of how these complex men, idealistic but also uncompromising, led a rebellion is a superb introduction to this period of momentous change in Irish history.'
— Colm Tóibín

'[A] detailed examination of the seven signatories to the proclamation that launched the Rising… The author's deft character studies bring these larger-than-life figures down to Earth and she explores their motivations and failings as well as their deeds. Personal details, such as the fact that one of the seven named his dog Kruger, after the South African leader who fought Britain in the Boer War, show the depth of their resentment of British rule.'
— Chicago Review of Books

'A provocative, personal, fascinating, and utterly readable contribution to a hugely important debate.'
— Richard English, author of Armed Struggle: The History of the IRA

'A fine, well-researched and beautifully-written ground-breaking book by a leader in her field.'
— Andrew Roberts F.R.S.A., bestselling author of Napoleon the Great

'No one has done more to reinvigorate debate about the 1916 Rising than Ruth Dudley Edwards.'
— Lord Bew, Irish History and Politics, Queen's University, Belfast

'...a probing and detached appraisal of the seven revolutionaries who placed Ireland on a fateful course in 1916. It seeks to explore and explain rather than condemn or disparage. Connolly, Pearse, Clarke and the others obtain more sympathetic treatment from Ruth Dudley Edwards than many of their hagiographers are likely to provide.'
— Tom Gallagher – Emeritus Professor in Peace Studies, University of Bradford, author and commentator

'The folly, the courage and the tragedy of the Easter Rebellion have never before been presented with such clarity and brilliance. At times, it reads like the work of fiction that it is not, as Ruth Dudley Edwards, with a novelist's unerring narrative skill, interweaves the lives of the seven signatories of the Proclamation from their disparate beginnings to their common end. To have brought such dazzling freshness to a very familiar story is an extraordinary achievement. Nothing less than a masterpiece.'
— Kevin Myers, Sunday Times columnist and author of Watching the Door

'Ruth Dudley Edwards brings a unique perspective to bear on the leaders of the Easter Rising: empathetic, interrogative, and highly conscious of the questions raised and left unanswered by their sacrificial gesture of rebellion. With this book she completes the analysis begun with her path-breaking study of Patrick Pearse nearly forty years ago, providing a group biography of the disparate revolutionary leaders and a clear-eyed consideration of the legacy they left. It should be required reading.'
— R. F. Foster, Carroll Professor of Irish History, University of Oxford

'The leaders of the 1916 Rising are generally regarded by Irish nationalists as heroes and they are honoured as the founding fathers of the Irish Republic. A minority take the view that the Rising was unnecessary and undemocratic. In a timely re-assessment, the respected historian Ruth Dudley Edwards looks at the legacy of seven leaders of the Rising, including the legacy of violence which has blighted Ireland in the century since. Her book deserves a wide readership both by traditional nationalists and by those who believe it is time to reassess the legacy of the Rising.'
— Seán Donlon, former head of the Irish Diplomatic Service
or
Not Currently Available for Direct Purchase