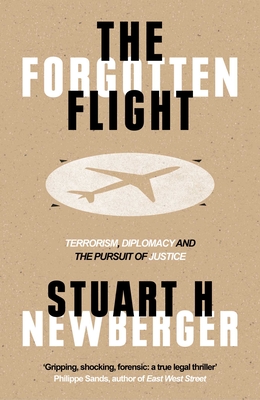 The Forgotten Flight (Hardcover)
Terrorism, Diplomacy and the Pursuit of Justice
Oneworld Publications, 9781786070920, 336pp.
Publication Date: June 13, 2017
* Individual store prices may vary.
Description
On 19 September 1989, 170 people were killed when French Airlines UTA Flight 772 was destroyed by a suitcase bomb while en route from Chad to Paris. Despite being one of the deadliest acts of terrorism in history, it remained overshadowed by the Lockerbie tragedy that had taken place ten months earlier. Both attacks were carried out at the instruction of Libyan dictator Qaddafi, but while "Lockerbie" became synonymous with international terrorism, UTA 772 became the "forgotten flight".

As a lawyer, Stuart H. Newberger represented the families of the seven Americans killed in the UTA 772 attack. Now he brings all the pieces together to tell its story for the first time, revealing in riveting prose how French investigators cracked the case and taking us inside the courtroom to witness the litigation against the Libyan state that followed. In the age of globalization, The Forgotten Flight provides a fascinating insight into the pursuit of justice across international borders.
About the Author
Stuart H. Newberger is a senior partner at international law firm Crowell & Moring. His practice handles complex international disputes, many involving the actions of governments. He lives in McLean, Virginia.
Praise For The Forgotten Flight: Terrorism, Diplomacy and the Pursuit of Justice…
'This is an engrossing, well-paced and tautly written book by an author who...has complete mastery over his material.'
— Adrian Weale, Literary Review

'Newberger's well-researched book ensures that UTA Flight 772 will no longer be forgotten.'
— Wall Street Journal

'Gripping, shocking, forensic: a true legal thriller that captured me entirely.'
— Philippe Sands, author of East West Street

'Gripping…The Forgotten Flight is both a thriller and a detective story, but – more importantly – it shows how the rule of law can be used to make terrorists financially accountable for crimes against innocents.'
— Kai Bird, Pulitzer Prize-winning historian and author of the New York Times bestseller The Good Spy: The Life and Death of Robert Ames

'In the war against terrorism, lawyers can make a difference. Author Stuart Newberger demonstrates what one committed lawyer can accomplish. A must read for all those interested in how the rule of law can be an important weapon in the ongoing struggle.'
— Kenneth Feinberg, former Special Master of the Federal September 11th Victim Compensation Fund

'Newberger deftly breaks down the diplomatic flourishes and political motivations of the four countries involved in a complex web of determining culpability for state-sponsored terrorism. This is an engrossing and approachable narrative that skillfully distills the intricacies of this niche of international law and sensitively conveys the sorrows of the loved ones seeking a measure of justice.'
— Publishers Weekly

'[A] delineation of a complex, important court case against Libyan terrorism that required years to extract accountability and compensation for the victims.'
— Kirkus