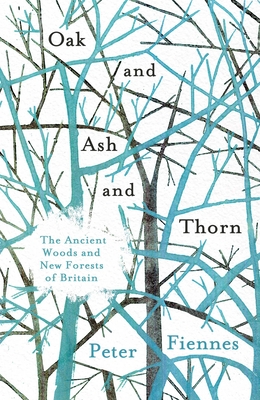 Oak and Ash and Thorn (Hardcover)
The Ancient Woods and New Forests of Britain
Oneworld Publications, 9781786071668, 304pp.
Publication Date: October 10, 2017
* Individual store prices may vary.
Description
A Guardian Best Nature Book of the Year


The magic and mystery of the woods are embedded in culture, from ancient folklore to modern literature. They offer us refuge: a place to play, a place to think. They are the generous providers of timber and energy. They let us dream of other ways of living. Yet we now face a future where taking a walk in the woods is consigned to the tales we tell our children.

Immersing himself in the beauty of woodland Britain, Peter Fiennes explores our long relationship with the woods and the sad and violent story of how so many have been lost. Just as we need them, our woods need us too. But who, if anyone, is looking out for them?
About the Author
Peter Fiennes is the author of To War with God, a moving account of his grandfather's service in WWI. He lives in Wandsworth, south-west London.
Praise For Oak and Ash and Thorn: The Ancient Woods and New Forests of Britain…
'Extraordinary… Written with a mixture of lyricism and quiet fury…Fiennes's book winningly combines autobiography, literary history and nature writing. It feels set to become a classic of the genre.'
— Observer

'Steeped in poetry, science, folklore, history and magic, Fiennes is an eloquent, elegiac chronicler of copses, coppicing and the wildwood.'
— Sunday Express

'Peter Fiennes writes with a piercingly urgent tone as he examines what he sees as the desperate state of our trees.'
— BBC Wildlife

'Fascinating…This passionate book should inspire readers to plant more trees, support woodland campaigns and participate in active conservation.'
— BBC Countryfile Magazine

'Lyrical, angry and often very funny. I loved it.'
— Tom Holland

'Rich, personal, evocative, rousing.'
— Robert Penn, author of Woods: A Celebration and The Man Who Made Things Out of Trees

'A passionate ramble through Britain's complicated relationship with its woodland.'
— Daily Mail

'A joy of a book and a delight to read.'
— The Great Outdoors

'A wonderful wander into the woods that explores our deep-rooted connections – cultural, historical and personal – with the trees.'
— Rob Cowen, author of Common Ground

'A tender hymn to the trees, a manifesto for a woodland society, a contemporary gazette of ideas and attitudes radiating into the future like annual rings from the original pith… In this lyrical, informative, unashamedly arboreal propaganda, one man's walk in the woods can inspire a generation.'
— Paul Evans, author of Field Notes from the Edge

'Peter Fiennes really can see the wood for the trees – he blends mythology, natural history and a sense of righteous anger to produce a paean of praise to our ancient woodlands and modern forests, and the life support system they provide.'
— Stephen Moss, author of Wild Kingdom: Bringing Back Britain's Wildlife

'Passionate and thoughtful in exactly the way the best nature writing should be…the woodlands of Britain have found their perfect advocate.'
— Hugh Thomson, author of The Green Road into the Trees

'Fiennes is the best of guides, gently, eloquently and with a fierce humour telling a sad story – relating chapters of fascinating detail to brighten his tale and quoting the poets as he goes.'
— John Wright, author of A Natural History of the Hedgerow