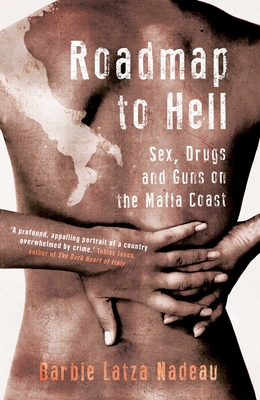 Roadmap to Hell
Sex, Drugs and Guns on the Mafia Coast
Hardcover

* Individual store prices may vary.
Other Editions of This Title:
Digital Audiobook (3/12/2018)
MP3 CD (3/13/2018)
Compact Disc (3/13/2018)
Paperback (3/12/2019)
MP3 CD (3/13/2018)
Compact Disc (3/13/2018)
Description
From sex slaves to drug mules, The Daily Beast's Rome Bureau Chief uncovers a terrifying and intricate web of criminal activity right on Europe's doorstep.

Chasing the money from kidnapped Nigerian hair braiders to ISIS gunrunners, this is the story of modern slavery in Europe and how the plight of those most in need is being wilfully disregarded. Caught between Camorra arms dealers and Nigerian drug gangs along Italy's attractive coast, each year thousands of refugees and migrants are lured into their murky underworld. In this powerful exposé, investigative journalist Barbie Latza Nadeau follows the weapons trail, meets the sex-trafficked women trapped by black magic, the nuns who try to save them and the Italian police who turn a blind eye as the most urgent issues facing Europe play out in broad daylight.
Praise For Roadmap to Hell: Sex, Drugs and Guns on the Mafia Coast…
'I read the book in one horrified gulp...a profound, appalling portrait of a country overwhelmed by crime, and which somehow managed to keep a focus on the human victims and the geopolitical forces at play.'
— Tobias Jones, author of The Dark Heart of Italy

'Barbie Latza Nadeau takes you on an exhilarating ride through Italy's dark underbelly.'
— Tina Brown

'This is a terrifying and heartbreaking book... I will find it difficult, from now on, to contemplate today's world without thinking about what goes on in Castel Volturno.'
— Colin Firth

'Barbie Latza Nadeau dissects the intricate relationship between those who make a living from organized crime, terrorism and sex trafficking with an astute understanding of the Italian culture that allows it to prosper.'
— Michael Winterbottom, filmmaker, Welcome to Sarajevo, The Road to Guantanamo, A Mighty Heart

'The sex-trafficking of tens of thousands of Nigerian young women to Italy is a shamefully under-reported story that disgraces the authorities in both those countries. Barbie Latza Nadeau reveals the dirty truth with flair, forensic insight, and, above all, great empathy for the victims of this trade... Her tale of suffering and injustice in Italy is an uncomfortable but vital read.'
— Barnaby Phillips, Former BBC correspondent in Nigeria

'The book, built on interviews with many participants, is well-reported and consistently heartbreaking...Nadeau's book makes for a useful work of advocacy, calling attention to a terrible traffic in human misery.'
— Kirkus Reviews

'A powerful exposé of organised crime along Italy's picturesque Amalfi Coast. The Daily Beast's Rome correspondent takes on gun runners, Nigerian gangs and wilfully negligent police as she chronicles the forced criminality of sex-trafficked women and drug mules – and the efforts of nuns to rescue them. Unnerving stuff.'
— Tatler

'Darker than Helene Stapinski's Murder in Matera, this timely and troubling exposé should appeal to a similar audience willing to embrace an unromanticized view of Italian life.'
— Library Journal

'Barbie Latza Nadeau uncovers a web of criminal activity in Italy, involving thousands of refugees and migrants who are lured into the underworld and forced to become sex slaves, drug mules, or weapon smugglers.'
— Publishers Weekly

'A crusading piece of journalism that exposes the human face of Italy's growing sex-slavery industry. Roadmap to Hell is a timely and devastating examination of the criminal underworld. Barbie Latza Nadeau's journalistic, snappy, and easy-to-digest work breaks down exactly how West African women are lured to Italy.'
— Foreword Reviews

'This is not a book that blames the victims.'
— Globe and Mail
Oneworld Publications, 9781786072559, 240pp.
Publication Date: March 13, 2018
About the Author
Barbie Latza Nadeau is an American journalist in Rome, working for Newsweek, The Daily Beast and CNN. For more than two decades she has covered crime in Europe, Italian politics, the Vatican, migration, the refugee crisis and women's issues. Her previous book about the murder trials of Amanda Knox, Angel Face (2010), was adapted for film by Michael Winterbottom (The Face of an Angel, 2015), starring Kate Beckinsale as a journalist based on Barbie herself.
or
Not Currently Available for Direct Purchase