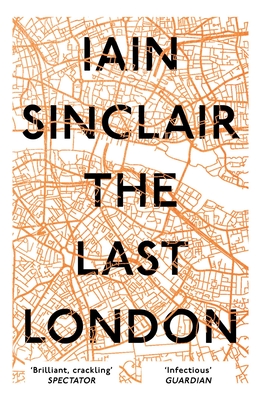 The Last London
True Fictions from an Unreal City
Paperback

* Individual store prices may vary.
Other Editions of This Title:
Hardcover (1/9/2018)
Description
A New Statesman Book of the Year

London. A city apart. Inimitable. Or so it once seemed.

Spiralling from the outer limits of the Overground to the pinnacle of the Shard, Iain Sinclair encounters a metropolis stretched beyond recognition. The vestiges of secret tunnels, the ghosts of saints and lost poets lie buried by developments, the cycling revolution and Brexit. An electrifying final odyssey, The Last London is an unforgettable vision of the Big Smoke before it disappears into the air of memory.
Praise For The Last London: True Fictions from an Unreal City…
'Where JG Ballard lauds the sexual aesthetics of the M25, Sinclair gives voice to those living and working beneath it, creating fresh narratives to replace those that the developers steal from us.'
— New Statesman, Books of the Year

'A coming together of everything that has made this great chronicler of the English capital such a compelling and perceptive guide… When late 20th- and early 21st-century London pass into distant history, it is Sinclair who will make sense of a time when "everything is pop-up, nothing is true".'
— Observer

'Very few authors have fashioned a London more real than the one we see… Here in this brilliant, crackling series of final walks through the London landscape, he finds the dissolving identity of the city increasingly disconcerting.'
— Spectator

'One can only marvel at Sinclair's eye for telling detail and his sense of the subtle ironies of modern London life…With its elegantly civilised melancholy for what is lost, neglected or hidden, Sinclair's position is highly seductive.'
— Daily Telegraph

'The Last London is an elegy for a London that is now over. The artists, the homeless, the eccentrics – the people Sinclair has always been on the side of – are moving out, or being moved out. The city seems to want him out too. He receives cards from estate agents urging him to "sell up, cash in, get out"… He writes a kind of Imagist prose, in which what Ezra Pound called the "luminous details" of poetic observation are compressed and transmuted into something altogether fresh… Like all true styles it's infectious stuff. Read a bit of him and you start to think like him. Read too much and you might try to write like him… Sinclair has always been a collaborator, standing against the co-option of space and narrative by capital and grand political visionaries. Underpinning all his work is a vision of the commons, describing both the places we inhabit and the stories we are allowed to tell, which are out there in the world, waiting to be shared. It's sad to think that London will, of course, go on without him.'
— Guardian

'If this really is the last of Sinclair's London, he'll leave you wanting more.'
— Prospect

'London needs Sinclair. Without him, posterity would not believe us. And no one writes like [him]. He started out a poet, and paragraphs burst with brilliance.'
— Literary Review

'Without [Sinclair] there to bear witness to 21st century London, many of the city's historic delights, surreal ironies and brutal hypocrisies would pass by unnamed.'
— Financial Times

'Sinclair's language is special and specialized, muscular, unsentimental, immodest in its ornateness, "inimitable" in the sense (true of so many great stylists) that it's quite easy to imitate badly, but impossibly hard to imitate well.'
— Los Angeles Review of Books

'A wonderful observer, a spot-on imagist of the urban scene…Sinclair has many attractions as a writer: a powerful gift for imagery and phrase-making; a keen curiosity; sympathy; anger at the destruction of the past and the public realm; vituperation; humour.'
— New York Review of Books

'You don't read Iain Sinclair just because he's an expert on London's multilayered urban life; what matters, as with Joyce, is his prose, page after page of verbal riffs and astonishments… His books, then, are hybrids, like so much of Joyce – and Kafka, WG Sebald, Robert Walser and Georges Perec… This isn't a book you can race through. Instead you'll want to take your time, look around and occasionally listen in on conversations, as you saunter along with Sinclair on these rambles into a strange and vanishing London.'
— Michael Dirda, Washington Post

'In this majestic culmination, Britain's finest writer wraps up what turns out to have been one enormous opus, puts a truly lustrous finish on our finish, and, as gently as is possible, tells us where we and everything we knew have gone. In a career of masterpieces, this is Sinclair's masterpiece.'
— Alan Moore

'It takes a poet to write prose as good as this. There is no doubt that future historians will have to look to Sinclair for an insight into the London of our era.'
— Barry Miles

'Iain Sinclair's Last London is an angry, poignant and frequently hilarious elegy to a London that has lost its soul. He chronicles "twilight days of tramping in search of mislaid selves, stories uncompleted and forgotten friends". The post-Brexit gloom never quite overwhelms Sinclair's phantasmagorical city. The infernal Olympicopolis may inspire dread pelotons of self-righteous cyclists, joggers and Mamils into a war on Sinclair's trails. But the return of Andrew Kötting and other renegade nonconformists familiar from earlier odysseys suggest that Sinclair is weaving a new myth for a wiser London.'
— Toby Jones

'This is vintage Sinclair: mature, acerbic, sharply observant and original, as always. I have admired him since I read his first novel, White Chappell, Scarlet Tracings, a vivid investigation of the Ripper myth. His Lights Out for the Territory remains one of the greatest pieces of non-fiction published in English since the War. In The Last London his imagination is at full force. He has never been better, never been funnier. This is the finest contemporary writing we have. I relished every page.'
— Michael Moorcock
Oneworld Publications, 9781786073303, 336pp.
Publication Date: May 14, 2019
About the Author
Iain Sinclair is the award-winning writer of numerous critically acclaimed books on London, including Lights Out for the Territory, London Orbital and London Overground. He won the Encore Award and the James Tait Black Memorial Prize for his novel Downriver. He lives in Hackney, East London.
or
Not Currently Available for Direct Purchase