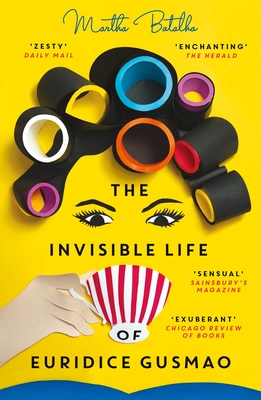 The Invisible Life of Euridice Gusmao
The International Bestseller, now a major motion picture
Paperback

* Individual store prices may vary.
Other Editions of This Title:
Digital Audiobook (10/24/2018)
Hardcover (10/10/2017)
Description


'Zesty' Daily Mail

'A real gem of a book' Stylist

A wickedly funny tale of two rebellious sisters in 1940s Rio de Janeiro

Euridice is bright and ambitious. But this is Brazil in the 1940s, and society expects her to be a loving wife and mother. While Antenor is busy congratulating himself on his excellent catch, Euridice spends her humdrum days ironing his shirts and removing the lumps of onion from his food, dreaming of the success she could have made of herself – as a writer, dressmaker or culinary whizz – in another life.

Her free-spirited sister Guida, on the other hand, is the kind of person who was 'born knowing everything'. When she returns from her failed elopement with stories of heartbreak and loss, the lives of Euridice and her husband are thrown into confusion, with disastrous consequences.

The Invisible Life of Euridice Gusmao is a darkly comic debut, bursting with vibrant Brazilian spirit and unforgettable characters – a jubilant novel about the emancipation of women.
Praise For The Invisible Life of Euridice Gusmao: The International Bestseller, now a major motion picture…
'This zesty Brazilian debut has the same brightly coloured quality as a folk painting... A novel that brims indeed with invisible life – not just Euridice's, but the dreams of an entire cast of women: housewives, daughters, and the forsaken who fall in between.'
— Daily Mail

'Beguiling... Has all that much changed? we can hear the author sighing between the breathless pauses of her fable-like saga...Batalha winkingly employs echoing names like Antenor, Antonio, Alfonso and Alvaro to suggest that her male characters have all tumbled out of the same chauvinistic nest... In this translation from the Portuguese by Eric M. B. Becker, Batalha's empathy is buoyed by puckish wordplay and nostalgia for a time when an act of emancipation entailed a manual typewriter and a good smoke: "Each cigarette was a cry of freedom that was complete in itself and left no tracks."'
— New York Times Book Review

'With something of Chocolat's charm about it, this is a funny, empowering tale of two sisters in forties Rio de Janeiro whose lives diverge only to come back together as they search for a sense of their own lives. A real gem of a book.'
— Stylist

'Humorous and exuberant, this book is a rare treat!'
— Chicago Review of Books

'[Martha Batalha] brings to life her many characters and the sights, smells and experiences of the world they live in with a deft, wry touch.'
— Press Association

'With sharp humor and pointed prose, Marta Batalha's novel rebels against the patriarchal forces of her home country.'
— World Literature Today

'Tremendous fun... A story of kindness and grace, which does not need to be any longer, but is sufficiently addictive to make us wish it were.'
— Philippa Williams

'The arc of this novel, the writing, the characters, are a joy to read.'
— Book Riot

'With humor and fresh, clever writing, the author addresses women's issues in mid-century society... All the characters' stories and descriptions are so cleverly told and so much fun to read. I loved this book. It puts a spotlight on women living in the ´40s, and is told with originality and skill. It is such a refreshing read, and I highly recommend it. This is the author's debut novel, and I will watch for anything new from her in the future.'
— Historical Novel Society 'Editor's Choice Selection' for November

'Extraordinary. You can't put this book down.'

— Vogue (Brazil)

'A worthy debut for Batalha, full of wry humor.'
— Kirkus

'Filled with intrigue, mystery, sadness, and a novel's-worth of fierce leading ladies, this one is perfect for fans of Julia Alvarez and Gabriel Garcia Marquez.'
— Bustle

'Martha Batalha...tells the story of the brilliant sisters Guida and Euridice with humour, social awareness and wit.'
— Mariana Enriquez, author of Things We Lost in the Fire

'[Batalha] effortlessly brings to life not only her many characters, but the sights, smells and experiences of the world they live in with a deft, wry touch. Characters are at the heart of this enchanting, unusual debut novel which draws readers in with its witty, evocative prose.'
— The Herald

'Funny, sensual, and full of the flavour of a city rarely captured in fiction.'
— Sainsbury's Magazine

'Vibrant and very human.'
— BookTrib

'I know they say don't judge a book by its cover, but the cover art for The Invisible Life of Euridice Gusmao is what drew me in because it's just beautiful—bold and vibrant and whimsical, which, as you might have guessed, could describe Euridice herself... She is scrappy and industrious, and it was a pleasure to get to root for her throughout this novel.'
— Book Riot (must-read book of October)

'An irrepressible tale of life and love.'
— Irish Examiner

'Humorous and sensitive... Martha Batalha's mature writing, which is also smooth and intoxicating, seasoned with characteristic authority and jolliness, and an immersive plot, makes this book a narrative delight.'
— Asymptote

'Delightful and funny... The writing style reminded me of A Man Called Ove – dark humor, quirky characters – it was an absolute delight.'
— Liberty Hardy (Book Riot podcast)

'Spellbinding... Batalha is one of those rare writers who can summarise an entire life in a single paragraph, so when she spends an entire book on a single life, the reader is in for a treat.'
— Laia Jufresa, author of Umami

'Batalha's debut shines a light on often-overlooked members of society and paints a thorough and riveting portrait of its characters that will keep readers engaged till the end.'
— Booklist

'The Invisible Life of Euridice Gusmao is earthy and witty, and the lives of its heroines of everyday existence are memorable and inspiring.'
— Meg Nola

'The Invisible Life of Euridice Gusmao unfurls a tender portrait of a woman insisting upon a life of her own making, and it's a wondrous tribute to the quiet resiliency of women coping with myopic traditions.'
— The Riveter

'Irrepressible.'
— Woman's Way

'The cumulative effect of the novel's interwoven stories is a quiet celebration of the lives women lead away from men...the novel's final lines, representing the "tack-tack-tack" of the typewriter's keys, suggest that Euridice, along with the other women in the novel, will end up having the final say.'
— Paste Magazine

'An absolute dream. Every woman should read this book.'
— Gerard Collard, LCI (France)

'A unique and enchanting novel.'
— Elle (France)

'We love the raging irony of this story and its portrayal of a secret rebel.'
— Cosmopolitan (France)

'A jubilant novel about the emancipation of women.'
— Madame Figaro

'Martha Batalha creates a nostalgic, exotic microcosm…full of compassion, but with a good pinch of irony and a hearty helping of humour.'
— literaturkritik.de

'Martha Batalha delivers a feminist debut [...] and a beautiful journey through folkloric Rio filled with the scent of spices, coconut milk and guava marmalade.'
— Le Parisien Magazine

'Razor-sharp, dry, caustic and intelligent.'
— Alberto Mussa, author of The Mystery of Rio

'Clever and unusual...filled with amusing tales told through its array of memorable characters.'
— Carlos Saldanha, film director

'An epic saga, a roman-fleuve.'
— Ruy Castro, writer

'A remarkable narrative.'
— Alberto Mussa
Oneworld Publications, 9781786073372, 240pp.
Publication Date: October 9, 2018
About the Author
Martha Batalha studied journalism and literature in Brazil, working first as a reporter before starting her own publishing company. The Invisible Life of Euridice Gusmao is her first novel. Martha lives in Santa Monica, California, with her husband and two children.

Eric M. B. Becker is editor of world literature journal Words without Borders and a translator of literature from Portuguese into English. He lives in New York.
or
Not Currently Available for Direct Purchase