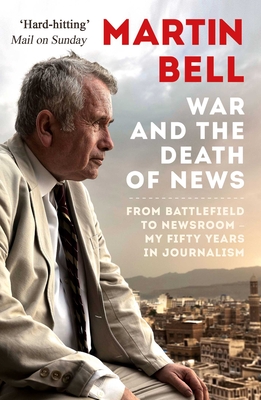 The War and the Death of News
From Battlefield to Newsroom – My Fifty Years in Journalism
Paperback

* Individual store prices may vary.
Description
A smoke bomb went off. Then shots were fired from buildings overlooking the square… The camera had a BBC News sign on it. Someone cried out from the crowd: 'You are the world, you are the world, you have to tell what they are doing to our people.'

From Vietnam to Iraq, Martin Bell has seen how war has changed over the last fifty years, neither fought nor reported the way it used to be. Truth is degraded in the name of balance and good taste, reports are delivered from the sidelines, and social media, with rumours and unverifiable videos, has ushered in a post-truth world.

As modern news increasingly seeks to entertain first and inform second, the man in the white suit provides a moving account of all he has witnessed throughout his career and issues an impassioned call to put the substance back into reporting.
Praise For The War and the Death of News: From Battlefield to Newsroom – My Fifty Years in Journalism…
'Thought-provoking and hard-hitting.'
— Mail on Sunday

'No one is better qualified than Martin Bell to write honestly about the decline of news reporting. Written with passion and clarity this book is an essential read for all who value truth and integrity in journalism.'
— Terry Waite CBE

'Throughout the book…[Bell] reflects on the television reporter's trade, to which he brought so much distinction. He sees it as doomed, a result of "hotel rooftop" reporting from war zones by correspondents harried by hourly demands for new content, the "celebrification" of so much news and the shrinking of foreign coverage in both broadcasting and newspapers.'
— John Lloyd, Literary Review

'Wry, funny and trenchant, saluting the end of an era.'
— Kate Adie

'In prose as crisp and hard-hitting as the bullets he's dodged for decades, Bell sounds the alarm for a TV journalism that's under fire as never before. It's typical Bell – unflinching truth-telling, brilliantly argued; a clarion call to everyone who cares about powerful journalism in a world that needs it more than ever.'
— Bill Neely, chief global correspondent, NBC News

'Martin Bell is the finest foreign correspondent of his generation… With wisdom, candour and integrity, he describes the irony and tragedy of the wars, revolutions and riots he covered in violent places all over the world. He is especially critical of editors at home who kept the public from seeing the ugly truth of what happened in places like Bosnia, Iraq and Israel. This is his masterwork.'
— John Laurence, author of The Cat from Hué: A Vietnam War Story
Oneworld Publications, 9781786073471, 304pp.
Publication Date: November 13, 2018
About the Author
Martin Bell is both a former BBC war correspondent and a former MP. His previous books include Through the Gates of Fire and An Accidental MP. He is a UNICEF Goodwill Ambassador. He lives in Barnet, North London.
or
Not Currently Available for Direct Purchase