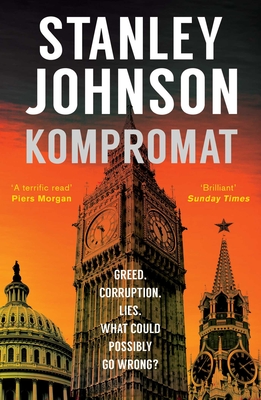 Kompromat (Paperback)
A Brexit Affair
Point Blank, 9781786074140, 320pp.
Publication Date: October 9, 2018
* Individual store prices may vary.
Description
2016. The world is on the brink of crisis. Who could have predicted how events would play out? In this satirical thriller, Stanley Johnson, former MEP and father to Prime Minister Boris Johnson, just might have.

In Britain, the British Prime Minister Jeremy Hartley is fighting a referendum he thought couldn't be lost.

In the USA, brash showman, Ronald Craig is fighting a Presidential Election nobody thought he could win.

In the USSR, Igor Popov, the Russian President, is using both events as part of his plan to destabilise the West.
About the Author
A former MEP and father to the PM, Stanley Johnson has written widely in both fiction and non-fiction.

Stanley Johnson recently starred in ITV's I'm a Celebrity...Get Me Out of Here! and is taking part in the second reality series of The Real Marigold Hotel. He was one of the first presenters of More 4's The Last Word, and has appeared on Have I Got News For You, The One Show, Pointless and The Fake News Programme.
Praise For Kompromat: A Brexit Affair…
'I wish we had been able to take this book into the jungle. Stanley's Kompromat is a superbly funny satire on recent events!'
— Georgia Toffolo ('Toff'), ITV's Queen of the Jungle 2017

'Brilliant.'
— The Sunday Times

'Perfect beach material.'
— Independent

'It's brilliant and, who knows, maybe it's true.'
— Ken Livingstone

'A rollicking work of fiction that sets conniving caricatures of real-life figures amid a diorama of recent world events...Mr. Johnson, a former member of the European Parliament and the father of British Foreign Secretary Boris Johnson, clearly knows all the drills. The author of 25 earlier works of fiction and nonfiction, he has a lifetime's expertise that adds comic credibility to a caper combining the antic action of Mad magazine's old "Spy vs. Spy" cartoons with the gonzo humor of Carl Hiaasen.'
— Wall Street Journal

'There are some novelists who, by instincts or study, understand perfectly the independent components of a thriller. Stanley Johnson is one of them.'
— Daily Telegraph

'This thriller has the makings of a gleeful romp through geopolitical skullduggery, but Johnson (The Commissioner) has laid out something that looks more like an alternative history for our grim and disrupted times.'
— Publishers Weekly

'An enjoyable satire…while still being all too scarily believable.'
— Crime Novel Reader

'This is a brilliant alternative account of recent and current events.'
— The Chronicle

'In its complex plotting and intrigue, Kompromat not only suggests that Russia was influencing the US election campaign, but behind the scenes bolstering the fortunes of the Leave campaign. Of course, Kompromat is an entertainment but Johnson is quite chuffed that some of his plot twists have proved prescient.'
— Sydney Morning Herald