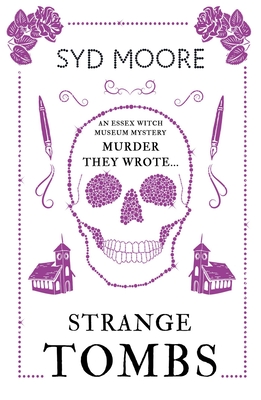 Strange Tombs - An Essex Witch Museum Mystery (Paperback)
Point Blank, 9781786074485, 400pp.
Publication Date: June 11, 2019
* Individual store prices may vary.
Description
The fourth instalment in Syd Moore's spooktacular witch detective series

Halloween in Essex and the Mystery and Suspense creative writing course at old Ratchette Hall is off to a satisfyingly creepy start. But things take a turn for the worse when the course administrator is discovered dead, clutching a marble finger to his chest. For why would anyone, undead or alive, want to kill mild-mannered Graham?

Luckily Rosie Strange and Sam Stone are on the case. Soon, however, they are digging up more questions than answers: who are the unearthly howls emanating from neighbouring Witch Wood every night? How has a stone crusader, on display in the church, managed to lose a finger? And, more sinister yet, why is one of the tombs missing a corpse?
About the Author
Syd Moore lives in Essex where the Rosie Strange novels are set. Prior to writing, she was a lecturer and a presenter on Pulp, the Channel 4 books programme. She is the author of the mystery novels The Drowning Pool, Witch Hunt and the Essex Witch Museum Mysteries, Strange Magic, Strange Sight and Strange Fascination.
Praise For Strange Tombs - An Essex Witch Museum Mystery…
'In this fourth book the series shows no sign of flagging, indeed with the season of walking ghosts and the looming darkness of winter it appears to be heading for new revelations and a chillier tone. Still great fun, and with some sharp messages besides)… I'd strongly recommend.'
— Blue Book Balloon

'Rosie Strange is a great character and it's always a pleasure to spend time in her company.'
— Crime Review

Praise for Syd Moore:

'A fun and thrilling read, one hugely impressive element is that Moore uses her light tone and intricate character relationships to address some serious points – ranging from people trafficking through to the derogatory stereotype of the Essex Girl. Lead character Rosie Strange is a woman to be admired with her ballsy, no-nonsense attitude, excellent boots and compelling family history. I can't wait to see more of Rosie, Sam and the Essex Witch Museum in the future.' Cathi Unsworth, author of Weirdo

'Dennis Wheatley meets Caitlin Moran.' Starburst

'The Strange novels are a breath of fresh air for fans of supernatural mysteries...all fantastic books... I can't recommend them highly enough' Paranormal Underground