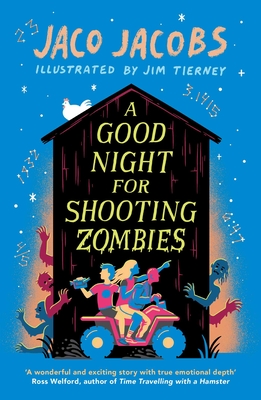 A Good Night for Shooting Zombies (Paperback)
ONEWorld Publications, 9781786074508, 176pp.
Publication Date: March 12, 2019
* Individual store prices may vary.
Description
Martin's life changes the day his dad is killed in a car accident. No one talks about it, his mom refuses to leave the house, and his only consolation through the sleepless nights is solving difficult maths problems. Until he forms an unlikely friendship with his neighbor Vusi who dreams of making a zombie movie. The two are plunged head first into a wild adventure, pulling everyone they know along with them. Shortlisted for the Found in Translation award, it has also since been made into a popular film in Afrikaans.
About the Author
Jaco Jacobs is the most popular and prolific children's book author in Afrikaans. He has published more than 140 books and over a million copies have been sold. Jaco is also a well-known columnist, blogger, freelance journalist and translator. He lives in Bloemfontein, South Africa. Kobus Geldenhuys is an award-winning translator who received the South African Academy for Arts and Science prize for Translated Children's and Youth Literature in Afrikaans for his translation of the third book in Cressida Cowell's popular children's series How To Train Your Dragon in Afrikaans. He is also the translator of many Harry Potter titles.