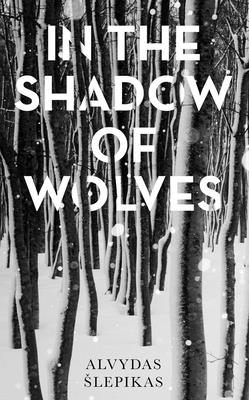 In the Shadow of Wolves (Hardcover)
A Times Book of the Year, 2019
Oneworld Publications, 9781786074683, 208pp.
Publication Date: July 9, 2019
Other Editions of This Title:
MP3 CD (11/19/2019)
Paperback (7/14/2020)
Compact Disc (11/19/2019)
* Individual store prices may vary.
Description
As the Russians advance into East Prussia, women and children are forced out of their homes to make way for the victorious troops.

Their fight for survival is only just beginning...

Facing critical food shortages and the onset of a bitterly cold winter, some of the older children, the 'wolf children' secretly cross the border into Lithuania, begging the local farmers for work or food they can take back to their starving families.

Cinematic and elegantly written, Alvydas Šlepikas's debut novel, based on real-life events, is both meticulously researched and stunningly powerful. It won numerous awards on publication and took Lithuania by storm.
About the Author
Alvydas Šlepikas is one of the most multi-talented contemporary Lithuanian writers – he is a poet, prose writer, playwright, screenwriter, actor and director. His works include two books of poetry, a short story collection and a novel, Mano vardas – Marytė (My Name is Maryte, 2012). He has frequently edited editions originating from the annual Spring Poetry Festival, edited the cultural weekly, Literatūra ir menas, and currently oversees the fiction section of this journal.
Praise For In the Shadow of Wolves: A Times Book of the Year, 2019…
'This novel's unflinching portrait of a forgotten tragedy is haunting.'
— The Times, Best New Historical Fiction: July 2019

'Has the simple narrative structure and heightened quality of a fable... Šlepikas has a vivid vision and lyricism which lifts the prose and ensures it is anything but derivative.'
— Big Issue

'This is stunning. Cinematic, powerful... [In the Shadow of Wolves] has an irresistible, emotional pull that is as fascinating as it is brilliant, with a sense of heartbreak rather than trauma.'
— Victoria's Book Reviews

'A heartbreaking blend of historical facts and literary prose.'
— Foreword Reviews

'A raw and tender true tale... It's no wonder that this elegant and intricate debut has garnered its Lithuanian author many awards.'
— LoveReading

'Vivid, highly dramatic and compelling... Alvydas Šlepikas has broken the dam of silence.'
— Dresdner Neueste Nachrichten

'In the Shadow of Wolves...reminded me in some ways of reading the work of Cormac McCarthy... Šlepikas imbues barren East Germany and the forests of post-war Lithuania with the dark undertones of a fairytale.'
— Splice

'This novel finds the perfect balance between documentary and literary narrative.'
— Kieler Nachrichten

'A significant work of memorialisation... Šlepikas – who is also a scriptwriter and director – injects his writing with a dramatic urgency that seeks to capture the scale of extraordinary suffering.'
— The Calvert Journal

'In the Shadow of Wolves is a gem of Lithuanian literature. It touches a nerve as it tells the story of those who survived an awful fate, who have experienced the most terrible things.'
— Alfa.lt

'The novel portrays the unending suffering of children, themselves innocent of the actions of their fathers, subject to indiscriminate cultural and political prejudice... Examples of kindness only throw into sharp relief the cruelty of social and cultural dislocation.'
— Otago Daily Times

'Alvydas Šlepikas uses direct yet poetic language to write about a period of history that has remained almost entirely buried until now. His concise prose conveys the tragedy of the situation and contains rich details about that time and place.'
— Šiaures Atenai

'This novel is intriguing, important and innovative – Alvydas Šlepikas confronts present with past, and cruelty and agony go hand in hand with love and self-sacrifice. His aim was to help young readers understand some of the horrors of war, and he achieves this.'
— Election Year Books

'This novel differs from other works of its kind; in its narration, and its sensitive, poetic style. Alvydas Šlepikas paints a beautiful picture of the world through a child's eyes – with the help of fairy tales and dreams, creating a complete contrast to the bitter reality.'
— bernardinai.lt

'In the Shadow of Wolves paints a very realistic, bleak picture of life after the Second World War. The novel is unique in its story, which focuses on the life of Germans and Lithuanians after the war, and because it will not only warm readers' hearts, but will also inspire them to live.'
— 15min.lt

'Alvydas Šlepikas has written a sensitive novel that takes us back to a time filled with death, violence, hunger and bitter cold. This novel broke the taboo of silence in Lithuania.'
— Eckard Scheld, Leipzig Book Fair

'Alvydas Šlepikas uses concise language and fast-paced scenes to portray the children's will to survive, the unimaginable cruelty as well as the help that some of the children received. Highly recommended.'
— ekz service for libraries

'In poetic language that is by turns concise and compact, Alvydas Šlepikas brings justice for his young heroes and victims. Readers can almost smell the cold sweat of the women and girls as they encounter drunken soldiers, feel the deep, penetrating hunger, the biting winter cold, the beatings suffered and handed out by children as they fight for a single morsel of food, and share in their despair and their sheer will to survive.'
— hansen & munk

'In the Shadow of Wolves is fast-paced, with the children sharing one experience after another. And the reader is always there too, hiding with the children in old railway trains, praying and hoping with them.'
— BR24 (Germany)

'This story is complex… [and] dramatises the real lives of the "wolf children" of East Prussia.'
— Spectrum magazine, Sydney Morning Heral

'There are many reasons to read this book...an incredible sense that [it] is going to rip your heart out.'
— The Bookshelf (ABC Radio, Australia)