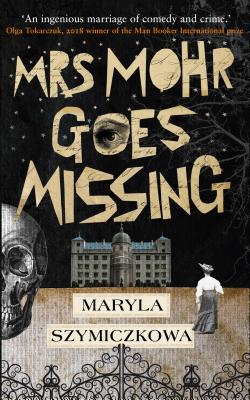 Mrs Mohr Goes Missing (Hardcover)
ONEWorld Publications, 9781786075437, 320pp.
Publication Date: June 11, 2019
* Individual store prices may vary.
Description
It is the year 1893. Thirty-eight-year-old Zofia Turbotyńska has assured her husband's rise through the ranks to university professor and is now looking for something to fill her long days at home. To stave off the boredom and improve her social standing, she decides to organise a charity raffle. To recruit the requisite patronage of elderly aristocratic ladies, she visits Helcel House, a retirement home run by nuns.
When two of the residents are found dead, Zofia discovers by chance that her real talents lie in solving crimes. The examining magistrate's refusal to take seriously her insistence that foul play is involved spurs her on to start her own investigation, recruiting her quick-witted servant Franciszka as her assistant. With her husband blissfully unaware of her secret activities, Zofia ruthlessly follows the clues and gradually closes in on the truth.
Drawing on Agatha Christie and filled with period character and charm, Mrs Mohr Goes Missing vividly recreates life in turn-of-the-century Poland, confronting a range of issues from class prejudice to women's rights, and proving that everyone is capable of finding their passion in life, however unlikely it may seem.
About the Author
Jacek Dehnel is a writer, poet and translator. He has written several novels, among them Lala (Oneworld, 2018) and Saturn (Dedalus, 2012), and his poetry collection Aperture was published by Zephyr Press in 2018. He writes crime fiction under the pseudonym Maryla Szymiczkowa together with partner Piotr Tarczynski, a translator and historian. They live in Warsaw. Antonia Lloyd-Jones is a prize-winning translator of Polish literature. She has translated works by many of Poland's leading contemporary novelists and authors of reportage, as well as crime fiction, poetry, screenplays, essays, and children's books. She is a mentor for the WCN Emerging Translator Mentorship Programme, and from 2015-17 was co-chair of the Translators Association. Her previous translations of work by Jacek Dehnel include the novels Lala (Oneworld Publications, 2018) and Saturn (Dedalus Books, 2012).
or
Not Currently Available for Direct Purchase