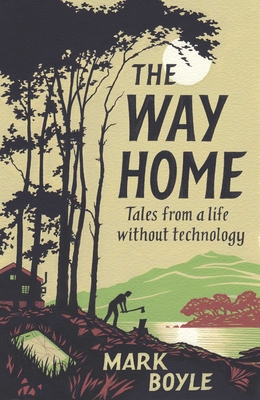 The Way Home
Tales from a life without technology
Hardcover

* Individual store prices may vary.
Other Editions of This Title:
Digital Audiobook (6/10/2019)
Paperback (3/2/2021)
MP3 CD (6/11/2019)
Compact Disc (6/11/2019)
Compact Disc (6/11/2019)
Description
It was 11pm when I checked my email for the last time and turned off my phone for what I hoped would be forever.

No running water, no car, no electricity or any of the things it powers: the internet, phone, washing machine, radio or light bulb. Just a wooden cabin, on a smallholding, by the edge of a stand of spruce.

In this honest and lyrical account of a remarkable life without modern technology, Mark Boyle explores the hard won joys of building a home with his bare hands, learning to make fire, collecting water from the spring, foraging and fishing.

What he finds is an elemental life, one governed by the rhythms of the sun and seasons, where life and death dance in a primal landscape of blood, wood, muck, water, and fire – much the same life we have lived for most of our time on earth. Revisiting it brings a deep insight into what it means to be human at a time when the boundaries between man and machine are blurring.
Praise For The Way Home: Tales from a life without technology…
'Boyle is fascinating, often touching and funny, on the little fixes that a no-technology life requires, but he's better when he digs into the deeper question of who we are.'
— The Herald

'A warts-and-all look at an extreme way of life, but one that, by the end of this engrossing book, makes the world around it seem dysfunctional'
— Irish Independent, BOOK OF THE YEAR 2019

'[An] honest and lyrical account of a remarkable life without technology'
— Carlow People

'Boyle's memoir of his first year off-grid is fascinating… A poetic meditation on the almost-mystical benefits of falling in sync with nature.'
— New Statesman

'[A] reflective, lyrical account… This genuine, warm-hearted analysis of the dysfunctions of our current world offers a surprisingly alluring alternative to our current malaise – if only we dared adopt it.'
— Manchán Magan, Irish Times

'Don't buy my books: buy this instead, while there's still time for you to change. This one matters. Boyle is the real thing: vital, angry, and kind. And real things are terribly rare. You might think his ideas are dangerous, but in fact they represent the only possible safety.'
— Charles Foster, author of Being a Beast

'A beautiful and thought-provoking story that will inspire you to live differently. Mark asks the most fundamental questions then sets out to live the answers.'
— Lily Cole

'A revealing, humorous and deeply endearing witness statement on behalf of lovely, dirty reality.'
— Jay Griffiths, author of Wild: An Elemental Journey

'Illustrates beautifully that giving up many of the things in life that we treat as indispensable may actually be less of a sacrifice than a liberation.'
— Neil Ansell, author of Deep Country

'A frank account of life in rural Ireland and a way of life that has been forgotten.'
— Irish Sunday Times

'Eloquent, engaging account of life off the grid.'
— The Simple Things

'The Way Home paints a picture not only of how broken our culture has become, but of how to begin building a new one. It demands to be read – and then lived by.'
— Paul Kingsnorth, author of The Wake and Confessions of a Recovering Environmentalist

'This memoir about living off the grid and tech-free in County Galway will inspire, connect and slow down the most impatient of readers, and that is a very good thing.'
— Shelf Awareness

'Boyle knows few people can live like he does, but positive change seems inevitable if one follows his advice to resist material trappings, revolt against industrial ecological damage, and re-wild landscapes. Boyle's anti-technology stance upsets many, making this a must-read.'
— Booklist

'In a world more connected than ever before we have never been so disconnected. By shaking off technologies of modern man and stepping back in time, Boyle shows the hardships and beauty of living with the seasons. A thought-provoking read which encourages the reader to appreciate many of the things we take for granted and question the way we live in the modern world.'
— Megan Hine, author of Mind of a Survivor

'The book is an intimate description of his struggles to go back to basics and draws the reader into the sinews of the experience… This book is not a polemic, nor is it a rant against the modern age and its technologies; rather it is an account of a life that is lived to the beat of a more ancient drum. It is a delight as it draws you into the author's life, to its rhythms, its challenges and its rewards. After I had finished reading The Way Home I was lonesome for Boyle's world; a sure sign of a great read.'
— Irish Independent

'Beautifully written (with a pencil as opposed to a computer), The Way Home is a paean to a life largely forgotten by the majority of humanity, an existence which appears more wholesome, fulfilling and rewarding as Mark builds his cabin, brews his wine and lives off the land.'
— Fermanagh Telegraph
Oneworld Publications, 9781786076007, 288pp.
Publication Date: June 11, 2019
About the Author
Mark Boyle founded the 'freeconomy' movement in the UK. A former economics graduate and business director, he is a columnist for the Guardian and Ethical Consumer magazine and he has been interviewed by a variety of national media, including Sky News, BBC Radio Four, Daily Mirror, Daily Mail, Telegraph, and The Times.
or
Not Currently Available for Direct Purchase