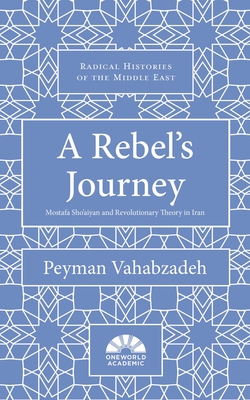 A Rebel's Journey
Mostafa Sho'aiyan and Revolutionary Theory in Iran (Radical Histories of the Middle East)
Hardcover

* Individual store prices may vary.
Description
Following the 1953 coup that toppled the democratically elected government of Mossadeq and restored the rule of the Shah in Iran, Mostafa Sho'aiyan became a key figure on the country's militant left. From a life underground he contributed significantly to the study of Iranian history and politics, and developed a unique theory of revolution.

A Rebel's Journey provides fascinating insights into the life and work of this singular theoretician. Peyman Vahabzadeh sets Sho'aiyan's thought in the context of his time and place, and explores how his revolutionary theory might contribute to today's expanding movements for social justice and liberation.
Praise For A Rebel's Journey: Mostafa Sho'aiyan and Revolutionary Theory in Iran (Radical Histories of the Middle East)…
'Through a comprehensive study and analysis of Sho'aiyan's writings, Vahabzadeh seeks to revive his work, not merely by demonstrating his contributions to Iranian revolutionaries but by demonstrating his value as an international thinker with continued relevance. Vahabzadeh accomplishes this by engaging with Sho'aiyan's revolutionary theories – specifically his concepts of enlighteners, frontal politics, and rebellious thought – to suggest how they could be used by today's Left in launching resistance against the capitalist world system.'
— Middle East Journal

'An original intellectual, a prolific writer, a poet, a Marxist theorist, a revolutionary leader, a critical thinker, a visionary of a future that never was – what strange interpreter of dreams has Peyman Vahabzadeh unearthed from the forgotten layers of a people's history. We once thought Mostafa Sho'aiyan was a mirage – in this utterly brilliant work of revolutionary love you'll learn he was for real.'
— Hamid Dabashi, Hagop Kevorkian Professor of Iranian Studies and Comparative Literature, Columbia University

'This is an elegant and original account of the life, times, and intellectual and theoretical contributions of the Iranian revolutionary Mostafa Sho'aiyan. It is, in particular, a timely work, emphasising Sho'aiyan's continuing relevance in an era of "savage, globalised capitalism".'
— Stephanie Cronin, Elahé Omidyar Mir-Djalali Research Fellow, University of Oxford

'An elegiac meditation on one of the most sophisticated revolutionary political theorists of modern Iran. Meticulously researched, A Rebel's Journey resituates Sho'aiyan's long-neglected oeuvre at the center of the Iranian intellectual history and the history of anti-colonial liberation struggles of the Global South.'
— Behrooz Ghamari-Tabrizi, Professor of Near Eastern Studies, Princeton University

'Deeply informed and passionately engaged, this is an exceptional work of scholarship, reconstructing the life and thought of pre-revolutionary Iran's most exceptional figure on the left… Vahabzadeh has done a wonderful job of intellectual restoration and remembering, while showing an intriguing path forward to the revolutionaries of our time.'
— Afshin Matin-Asgari, Professor of Middle East History, California State University, Los Angeles

'An outstanding interpretive and critical overview of the vast body of Mostafa Sho'aiyan's writings. Peyman Vahabzadeh masterfully reveals Sho'aiyan's cosmopolitan and frontal theory of rebellion, and his singular and uncanonical leftism.'
— Mojtaba Mahdavi, Professor of Political Science, University of Alberta
Oneworld Academic, 9781786076205, 352pp.
Publication Date: January 14, 2020
About the Author
Peyman Vahabzadeh is Professor of Sociology at the University of Victoria, where his research focuses on the power of collective action and social movements. He is the author of Violence and Nonviolence and editor of Iran's Struggles for Social Justice, among other works in English and Persian. He lives in Victoria, British Columbia.
or
Not Currently Available for Direct Purchase