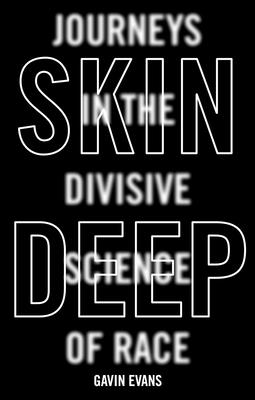 Skin Deep
Dispelling the Science of Race
Hardcover

* Individual store prices may vary.
Other Editions of This Title:
Compact Disc (8/27/2019)
MP3 CD (8/27/2019)
Paperback (10/13/2020)
Description
Racial differences are rooted in biological reality, right? That's certainly what a small group of anthropologists, psychologists and pundits would have you believe. Portraying themselves as brave defenders of the inconvenient truth, this group took the revival of 'race science' from alt-right online message boards into mainstream academic journals. They seek to justify raging social inequalities from poverty to incarceration rates with a simple message: some people are just born to be poor. There's just one problem… race science isn't real.

The first Europeans had dark skin and black curly hair. Culture was born in Africa, not Western Europe. Gavin Evans examines the latest research on how intelligence develops and laying out new discoveries in genetics, palaeontology, archaeology and anthropology to unearth the truth about our shared past. Skin Deep stands up to the pseudo-science deployed to justify colonial rule, the apartheid regime and the vast inequalities that persist today. As race dominates the political agenda, it's time to put the hateful myths about it to bed.
Praise For Skin Deep: Dispelling the Science of Race…
'a thorough overview and detailed critique of contemporary "race science," and a poignant description and assessment of scientific racism… an easy-to-read overview of the latest academic research in genetics, evolutionary anthropology, archaeology, and paleontology that explains disparities in human intelligence… but not in terms of the construct "race." As a seasoned science journalist, Evans explains complex concepts and theories with clarity and precision, and he brings moments of levity to this challenging subject matter.'
— Choice

'A world in thrall to far-right politics and ethnic nationalism demands vigilance. We must guard science against abuse and reinforce the essential unity of the human species. I am grateful that in Evans we have someone conscientious, brave and willing to do that.'
— Nature

'With the probability that existing political and social tensions will be exacerbated by climate change, rising migration and conflicts over resources, these kinds of books are sorely needed.'
— Literary Review

'Excellent! In Skin Deep, Gavin Evans lucidly and comprehensively demolishes the rationale and evidence of the so-called "race science" employed by some of our most privileged and respected scholars.'
— Stephen Oppenheimer, author of Out of Eden: The Peopling of the World and The Origins of the British

'Well-researched and richly rewarding, Skin Deep methodically dismantles the quackery and junk science that seeks to justify economic inequality by appeals to racial difference. Given the insidious rise of pseudoscientific racism, Skin Deep is timely and urgent, its patient scholarship a fine antidote to the quackocracy's shrill rhetoric. In this spirit it will appeal to readers who enjoyed Ben Goldacre's Bad Science and I Think You'll Find It's A Bit More Complicated Than That.'
— Robert Newman, comedian and author

'This book contains a wealth of information, old and new, about race and its underlying genetics. Everyone interested in the distinction between knowledge and prejudice in this sensitive and challenging subject should read it.'
— Jonathan Bard, Emeritus Professor, University of Edinburgh, and author of Principles of Evolution

'Give it up for Gavin Evans's thorough and timely teardown of racial myths… This triumphant volume debunks such popular fallacies as race-based IQ differences, jumping genes, and predictable variations in brain size and development across different – and arbitrary – racial categories… The best defense against misinformation is knowledge, and Skin Deep is an invaluable tool to add to your arsenal.'
— Foreword reviews

'[An] extensively researched and clearly articulated work of popular scholarship.'
— Publishers Weekly
Oneworld Publications, 9781786076229, 384pp.
Publication Date: August 13, 2019
About the Author
Gavin Evans was born in London and grew up in Cape Town, where he became intensely involved in the anti-apartheid struggle. He studied economic history and law before completing a PhD in political studies, writing extensively on race and racism. He lectures in the Culture and Media department at Birkbeck College, London, and broadcasts regularly for the BBC World Service and is a keen marathon runner.
or
Not Currently Available for Direct Purchase