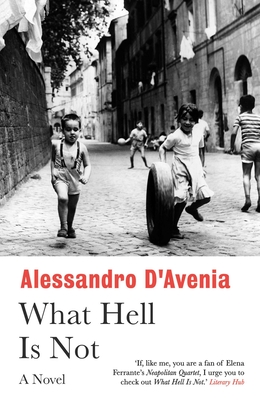 What Hell Is Not (Paperback)
Oneworld Publications, 9781786076830, 368pp.
Publication Date: January 14, 2020
Other Editions of This Title:
Hardcover (1/24/2019)
MP3 CD (1/24/2019)
Compact Disc (1/24/2019)
* Individual store prices may vary.
Description
The school year is finished, exams are over and summer stretches before seventeen-year-old Federico, full of promise and opportunity. But then he accepts a request from one of his teachers to help out at a youth club in the destitute Sicilian neighbourhood of Brancaccio. This narrow tangle of alleyways is controlled by local mafia thugs, but it is also the home of children like Francesco, Maria, Dario, Totò: children with none of Federico's privileges, but with a strength and vitality that changes his life forever.

Written in intensely passionate and lyrical prose, What Hell Is Not is the phenomenal Italian bestseller about a man who brought light to one of the darkest corners of Sicily, and who refused to give up on the future of its children.
About the Author
Alessandro D'Avenia teaches Ancient Greek, Latin and Italian Literature at a high school in Milan and is a regular contributor to the newspaper Corriere della Sera, writing on the subjects of literature and education. His debut novel, White as Milk, Red as Blood, was translated into twenty-two languages and turned into a film. Together with his second novel, it spent three years on the Italian fiction top ten bestseller list, selling more than one million copies in Italy alone. What Hell Is Not is his third novel.

Jeremy Parzen studied Italian at UCLA. He is a translator, blogger, musician and wine writer. He lives in Houston, Texas.
Praise For What Hell Is Not…
'A beautifully written novel, translated from the Italian, with a heartwarming story... The language soars like a symphony. The notes are in perfect pitch.'
— New York Journal of Books

'If, like me, you are a fan of Elena Ferrante's Neapolitan Quartet, I urge you to check out What Hell is Not.'
— Literary Hub

'A mature work that looks the theme of evil and violence in the eye.'
— Libero

'Rich in figurative language... [the story is] equally rich in characterization and setting.'
— Booklist

'D'Avenia convincingly conveys the extent of the deprivation and of the reach of the Mafia's influence and control... [He] has a lyrical touch amid the violence and the squalor.'
— Herald Scotland

'The dark story of Father Pino's passion and death is a long shriek of grief, but it is not in vain: it is also a hymn to love that becomes beauty.'
— Antonia Arslan, author of Skylark Farm

'What Hell Is Not celebrates resilience in the face of deprivation and the transformative power of small acts of love.'
— Fra Noi, Chicago

'Each short chapter of this book is a work of poetic beauty, some showing the transformative power of love and some showing the devastation that hate brings into the world.'
— Marjorie's World of Books, blog review