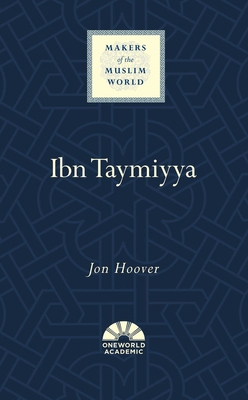 Ibn Taymiyya (Makers of the Muslim World) (Hardcover)
Oneworld Academic, 9781786076892, 176pp.
Publication Date: January 14, 2020
* Individual store prices may vary.
Description
Ibn Taymiyya (1263–1328) of Damascus was one of the most prominent and controversial religious scholars of medieval Islam. He called for jihad against the Mongol invaders of Syria, appealed to the foundational sources of Islam for reform, and battled against religious innovation. Today, he inspires such diverse movements as Global Salafism, Islamic revivalism and modernism, and violent jihadism. This volume synthesizes the latest research, discusses many little-known aspects of Ibn Taymiyya's thought, and highlights the religious utilitarianism that pervades his activism, ethics, and theology.
About the Author
Jon Hoover is Associate Professor of Islamic Studies at the University of Nottingham. He specialises in Islamic intellectual history, medieval Islamic theology and philosophy, Christian–Muslim relations, and the thought of Ibn Taymiyya. He is the author of Ibn Taymiyya's Theodicy of Perpetual Optimism, and numerous articles and book chapters on Ibn Taymiyya's theology and ethics.
Praise For Ibn Taymiyya (Makers of the Muslim World)…
'Finally, Ibn Taymiyya, who is one of the most influential thinkers in Islam today, gets his first critical introduction in a Western language. And a really good one: Hoover's book manages a well-readable balance between broad analysis and a presentation that is rich in details.'
— Frank Griffel, Professor of Islamic Studies, Yale University

'At last, a book that comes close to solving the enigma of Ibn Taymiyya. Drawing on Jon Hoover's unparalleled knowledge of the Taymiyyan corpus, this is a measured, erudite and plainly accessible intellectual biography of the most fiercely contested scholar of medieval Islam. Hoover shows that Ibn Taymiyya is not always what his modern admirers and detractors make him out to be. If you want to understand Ibn Taymiyya in his own words and in his own time, this concise book is where you should start.'
— Yossef Rapoport, Professor in Islamic History, Queen Mary University of London

'Jon Hoover has produced an exquisite introduction to the complex thought of Ibn Taymiyya, one the world's greatest scholars. This book provides the best path for understanding Ibn Taymiyya's life, his struggles with the ruling authorities and with other scholars, as well as how he conceived of Islam (its law, theology and theodicy) as being centered on worship of God alone. Hoover has captured Ibn Taymiyya's ideas better than any other scholar I know.'
— Bernard Haykel, Professor of Near Eastern Studies and Director of the Institute for Transregional Studies, Princeton University

'Written by a leading scholar in the field, this book emancipates Ibn Taymiyya from his contested legacies. With a rigorous investigation of the sources and a good grasp of the latest research, it is a most welcome effort to bring together all aspects of Ibn Taymiyya's turbulent life and challenging thought. Written in an accessible style, it is an insightful introduction to one of the most powerful Muslim minds of all time. Students and scholars approaching the subject will not be able to do without it.'
— Caterina Bori, Associate Professor, University of Bologna