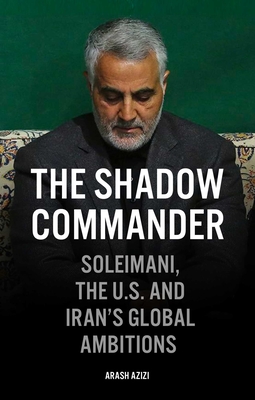 The Shadow Commander
Soleimani, the US, and Iran's Global Ambitions
Hardcover

* Individual store prices may vary.
Other Editions of This Title:
Digital Audiobook (12/14/2020)
Paperback (9/14/2021)
MP3 CD (12/15/2020)
Compact Disc (12/15/2020)
Description
'An excellent contribution to our knowledge of Iran and Soleimani.' Kim Ghattas, author of Black Wave

When the US assassinated Qassem Soleimani, he was one of the most powerful men in Iran. Known as 'the shadow commander', he enacted the wishes of the country's Supreme Leader across the Middle East, establishing the Islamic Republic as a major force in the region. But all this was a long way from where he began – on the margins of a nation whose ruler was seen as a friend of the West.

Through Soleimani, Arash Azizi examines how Iran came to be where it is today. Providing a rare insight into a country whose actions are often discussed but seldom understood, he reveals the global ambitions underlying Iran's proxy wars, geopolitics and nuclear programme.
Praise For The Shadow Commander: Soleimani, the US, and Iran's Global Ambitions…
'An important book about one of the Middle East's most charismatic and powerful men in recent years.'
— Middle East Monitor

'This energetic account sheds more light on Soleimani's character and his relationships with [Ayatollah] Ali Khamenei…and [Hezbollah's] Nasrallah.'
— The Times

'A brilliant primer on the politics of the Islamic Republic and an in-depth study on one of its most famous sons.'
— The New Arab

'[A] groundbreaking new biography of the late Qassem Soleimani… Azizi is a skillful interpreter of Soleimani's moves, and an astute analyst of how Iran's "living martyr" lied, schemed, and abetted the ugly torture and murder of true revolutionaries and Muslims across the Middle East, and wherever else the IRGC's reach permitted.'
— Tablet

'An excellent contribution to our knowledge of Iran and Soleimani.'
— Kim Ghattas, author of Black Wave

'Mr. Arash Azizi…provides one of the most fascinating books of 2020 and one of the most insightful – into not just Soleimani, but also Iran's foreign and security aims in the Middle East. A story that easily could have descended into hagiography is masterfully told by Mr. Azizi, who weaves one of the richest and most complex tapestries about the region I've come across in some time, especially in so short of a book. It is not just a biography of Soleimani, but a biography of modern Iran and its role in the Middle East.'
— Diplomatic Courier

"The strength of Azizi's book lies in his achievement in presenting the first written work about Soleymani's life story… the prose is reader-friendly; the author describes events chronologically and in a straightforward format."
— Ali Alavi, Senior Teaching Fellow at the School of Oriental and African Studies, Middle East Journal

'Extensively researched and drawing on a vast range of sources, this is the definitive account of one of the Middle East's most powerful, ambitious and enigmatic figures. Essential reading.'
— Christopher Davidson, author of Shadow Wars

'A fascinating account of the strengths and weaknesses of the most enigmatic warlord in the Middle East. Azizi skilfully portrays Soleimani's life and death in the wider context of Iran's recent history and politics.'
— Anshel Pfeffer, author of Bibi: The Turbulent Life and Times of Benjamin Netanyahu
Oneworld Publications, 9781786079442, 304pp.
Publication Date: November 24, 2020
About the Author
Arash Azizi is a historian at New York University where he researches the transnational links that tied Iran and the Arab world during the Cold War. He has written for numerous publications, including the New York Times, Washington Post, Daily Beast, Toronto Star and Jacobin, and several of his book-length translations have appeared in Iran and elsewhere. He lives in New York City. @arash_tehran