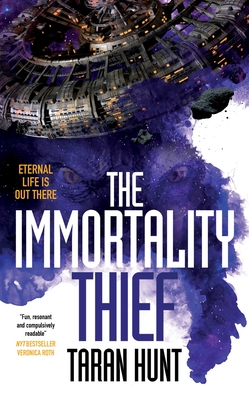 The Immortality Thief (The Kystrom Chronicles #1)
Hardcover

* Individual store prices may vary.
Description
The Immortality Thief is a ridiculously fun, fast paced, seat-of-your-pants read full of treasure hunts, traps, deadly enemies, betrayal, secrets, mysterious aliens, adventure and action as the story races to the find the secret to immortality.

Far off the edge of human existence, beside a dying star lies a nameless ship abandoned and hidden, lost for a millennium. But there are secrets there, terrible secrets that would change the fate of humanity, and eventually someone will come looking.

Refugee, criminal and linguist Sean Wren is made an offer he knows he can't refuse: life in prison, "voluntary" military service – or salvaging data in a long-dead language from an abandoned ship filled with traps and monsters, just days before it's destroyed in a supernova. Data connected to the Philosopher's Stone experiments, into unlocking the secrets of immortality.

And he's not the only one looking for the derelict ship. The Ministers, mysterious undying aliens that have ruled over humanity for centuries, want the data – as does The Republic, humanity's last free government. And time is running out.

In the bowels of the derelict ship, surrounded by horrors and dead men, Sean slowly uncovers the truth of what happened on the ship, in its final days… and the terrible secret it's hiding.
Praise For The Immortality Thief (The Kystrom Chronicles #1)…
"I read this six-hundred page beast in a single sitting because I couldn't put it down. Hunt's debut is riveting, edge-of-your seat thrills, with plenty of oh-shit and oh-no-look-out moments, but it also examines how people try to be better after making mistakes they regret—and how some are eager to simply make more mistakes. Grab this now. You'll devour it." -- Kevin Hearne, New York Times bestselling author of Ink & Sigil

"An electrically brisk science fantasy adventure filled with the warmth of found family, lively humor, and high adventure. You'll want to spend time with this crew of space salvagers as they encounter ancient power that could change their fortunes… if they can think on their feet quickly enough." -- World Fantasy Award-winning and New York Times-bestselling author Tobias S. Buckell

"A rollicking page-turner." -- Publishers Weekly
— Publishers Weekly

"A real hold-your-breath novel." -- FanFiAddict
— FanFiAddict

"Fun, fast-paced, cutting-edge, and full of epic twists" -- Library Journal, starred review
— Library Journal

"Fun, resonant and compulsively readable." -- Veronica Roth

'An entertaining romp' -- The Times
Solaris, 9781786185129, 608pp.
Publication Date: October 11, 2022
About the Author
Taran Hunt spent her childhood writing stories about unicorns until Battlestar Galactica, K. A. Applegate's Animorphs, and Brian Greene's The Elegant Universe turned her head. She got her degree in physics at Cornell University, studying weird exoplanets and the abstract elegance of math. After graduation she returned to her first love: storytelling. She works in theatre in New York City, where she lives with her partner and their increasingly round cat. She spends her limited free time weaving, making chainmail, and learning every language Duolingo has to offer. Taran Hunt lives in New York, New York. She dabbles in languages, physics, and theatre, while dreaming up monsters with too many teeth.