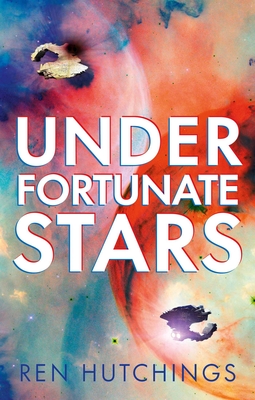 Under Fortunate Stars
Hardcover

* Individual store prices may vary.
Description
A modern, progressive homage to classic space opera stories, with flawed heroes and time travel

Two Ships. One Chance To Save The Future.

Fleeing the final days of the generations-long war with the alien Felen, smuggler Jereth Keeven's freighter the Jonah breaks down in a strange rift in deep space, with little chance of rescue—until they encounter the research vessel Gallion, which claims to be from 152 years in the future.

The Gallion's chief engineer Uma Ozakka has always been fascinated with the past, especially the tale of the Fortunate Five, who ended the war with the Felen. When the Gallion rescues a run-down junk freighter, Ozakka is shocked to recognize the Five's legendary ship—and the Five's famed leader, Eldric Leesongronski, among the crew.

But nothing else about Leesongronski and his crewmates seems to match up with the historical record. With their ships running out of power in the rift, more than the lives of both crews may be at stake...
Praise For Under Fortunate Stars…
"In Under Fortunate Stars, Ren Hutchings has written a space opera that is close and personal in its conflicts and, at the same time, wide-reaching in its scope. This is destined to be one of the breakout science fiction novels of 2022." -- Michael Mammay, Author of the Planetside series

"Under Fortunate Stars is an immensely fun space opera adventure, chock full of surprises and wonderful characters, laced through with humor and heart. Fans of Becky Chambers and Valerie Valdes will love this." -- John Appel

"Under Fortunate Stars combines a richly drawn world, complicated characters, and a time-travel plot that unwinds forward and backward, with stakes both massive and intensely personal." -- K. Eason, author of Nightwatch on the Hinterlands

"Questions of fate, predetermination and stepping into history are cleverly wrapped in an engrossing time travel tale." -- Paul Simpson, Sci-Fi Bulletin

"Under Fortunate Stars takes familiar themes of time travel, interspecies conflict, and ensemble crews to spin a wholly original and compulsively readable story. Ren Hutchings' first novel is exciting, funny, truthful – and a thoughtful account of the necessity of trusting both ourselves and strangers to secure our future and live in peace." -- Una McCormack

"Under Fortunate Stars is a perfect novel featuring my favorite time-travel paradox. Ren Hutchings weaves together a tapestry of past and present with a deft hand in this tender space opera about two crews doing everything they can to build peace out of the ashes of war. This is an absolute must-read for anyone needing a little hope." -- K.B. Wagers, author of Hold Fast Through the Fire

"A fun, puzzle box of a mystery!" -- Megan E. O'Keefe, author of Velocity Weapon

"If the Guardians of the Galaxy crashed the Foundation... A twisty, enthralling space-time opera. Fortunate readers, and a future star." -- Stephen Baxter
Solaris, 9781786185921, 368pp.
Publication Date: May 10, 2022
About the Author
Ren Hutchings is an SFF writer and postgraduate Publishing student. She has spent most of the past few years working in game dev while plotting twisty space novels. Ren has previously worked as a creative producer and managed communications for a non-profit arts council. She graduated with a BA in History before completing a year of grad school in archaeology, indulging her lifelong passion for nerding out about the past just as much as the future. Ren loves weird mysteries, pop science, elaborate book playlists, and pondering about alternate universes.